1, 2, 3 – that's the season result for 'Team Deutsche Post by tolimit' in Porsche Carrera Cup Deutschland 2011. The team achieved first place in the team standings with a gap of 36 points. The 'Team Deutsche Post by tolimit' drivers Sean Edwards and Jeroen Bleekemolen furthermore secured 2nd and 3rd place in the driver championship.
In 2011 'Team Deutsche Post by tolimit' was the team to beat and again showed its dominance with Sean Edwards leading the season finale in Hockenheim right from the beginning. After having started from 2nd place, he took over the lead in the first curve, leaving his competitors behind for the remaining 17 laps. The driver title, however, was out of reach for him due to two races where tough luck and a damaged tyre left him behind Nick Tandy in the team standings. With this last victory of the season, however, he secured the vice-championship.
After having started from position 9, team mate Jeroen Bleekemolen caught up one place after the other. Celebrating his birthday today, he finished 5th and secured the 3rd place in the driver standings in the end, although he only competed in 7 out of 9 races, due to obligations in the American Le Mans Series.
Sean Edwards: "First of all, I would like to thank the whole team, mechanics, management and my team mate Jeroen for this great season. We won the team championship and are the team to beat in this series. Of course, I am also a bit disappointed that I missed the driver title. Above all after the tough luck in Oschersleben. But I guess that only means that we will come back next year to close unfinished business. Congratulations to Nick Tandy for winning the title."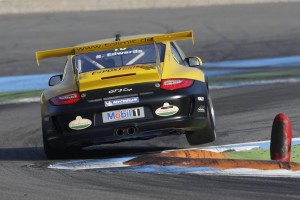 Jeroen Bleekemolen: "It was a great season for us with a great finish. I am obviously very happy to finish 3rd in the driver championship despite of having missed two out of the nine races. The team did a great job and we jointly achieved some great results. The races have been fun with a lot of fair duels. Hopefully we can continue in the same manner in 2012."
Michael Seifert, tolimit head of motorsport: "In this season, we have been able to show our true potential. We invested a lot of hard work, tears and sweat and finally achieved our aim. We are very satisfied with the performance of the whole team. Thanks to everyone! We absolutely deserved it."
Paul Schlotmann, tolimit Technical Director: "I am simply proud of our mechanics and the whole crew. They gave everything and showed that you can reach your target with hard work."
tolimit managing director Hans-Bernd Kamps: "This perfect season finale again shows that we can be very proud on the performance of our whole team. Everyone worked together perfectly. With view to the driver championship, we will for sure be back next year. Thanks to the team and to our partners, above all from Deutsche Post, that contributed so much to our joint success."
More information on the team is available on www.tolimit-motorsport.de and on www.facebook.com/tolimit.
This entry was posted on Monday, October 24th, 2011 at 8:10 PM and is filed under
All
,
Porsche Cup
. You can follow any responses to this entry through the
RSS 2.0
feed. You can skip to the end and leave a response. Pinging is currently not allowed.