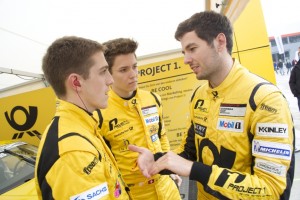 What you have achieved once, you can achieve again. Before the Porsche Carrera Cup weekend in Oschersleben, 'Team Deutsche Post by Project 1' was on the attack. Both Jeffrey Schmidt in the rookie championship and Sean Edwards in the A-championship had legitimate hopes in respect of the championship. For one, everything ran exactly to plan, for the other it was a weekend to forget.
Just like at the Norisring, the bitter blow came on Saturday in qualifying. A transmission failure and complete loss of drive meant position 30 for the first race and position 11 for Sunday's race. But those who know Edwards know that he never gives up. In both the first and the second races, he impressively demonstrated his pace and competitiveness and was the fastest on the track. On Saturday, his furious race to catch up led him to overtake 21 other cars and he was rewarded with a finish in eighth place. On Sunday too he showed everybody who was master of the track. At one point he was in third position, and it was only a decision of the race managers that stopped his battle to catch up. He therefore couldn't take the podium place and the 14 associated points. Sean Edwards himself is taking the weekend and the season to date calmly. "Fortune has never really shone on me in the Porsche Carrera Cup. To have so much bad luck yet again in qualifying is really hard. In the race, you then have to take a higher risk on board and more critical situations can occur. Neither race was ideal for the championship but a lot is still possible and there are still enough points to collect. In the last four races in Zandvoort and Hockenheim we'll be on the attack again."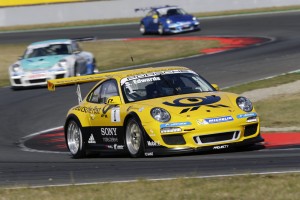 After the low point score at the weekend, Edwards has fallen back to fifth place in the championship. Paul Schlotmann comments for the record "As usual, we will analyse the weekend in peace at home. Sean E. was, as he showed in both races, the fastest driver in the whole field and he deserved a lot more. Nevertheless, we won't lose our nerve and we'll carry on showing what we can do!"
The two Project 1 rookies, Sean Johnston and Jeffrey Schmidt, rewarded themselves with top performances in the Magdeburger Börde. Swiss driver Jeffrey Schmidt's clear goal for the season is to win the rookie championship and he is letting nothing stand in the way of his goal. In both races in Oschersleben he was able to reduce the gap to Connor de Phillippi, and he is now lying just 5 points behind: "Eighth and tenth is a good overall result for me. Thanks to the whole team for a great car and their perfect work. Another place or two in front may have been possible for me, but for that I would have had to take a higher risk. So shortly before the end of the season, every points counts for the championship" said the 19-year old Jeffrey Schmidt.
Project 1 junior driver Sean Johnston drove at Oschersleben with the mental support of his parents from California. It was a weekend full of highs and lows. Saturday, and particularly qualifying, wasn't ideal after suffering from technical problems, and he therefore qualified in positions 28 and 23. In the first race, he could only put in two laps before finishing. However, on Sunday Sean Johnston showed what skill he has in him. The rookie had a go at opponent after opponent and, on a circuit which he only knows from a test day, overtook 12 cars. "Wow, I'm really proud of my performance and that of the team. My speed was bombastic and I had a sensational car. After the messed up Saturday, I had the satisfaction of finishing Sunday with brilliant, fair battles for position. Tenth place gives me confidence and motivates me for the forthcoming races."
'Deutsche Post by Project 1' team boss Paul Schlotmann says of his junior drivers: "Both of them have again convinced me today and both have done a top job. Jeffrey has reduced the gap to the leader in the rookie championship to just 5 points with an almost perfect weekend, and kept the leader behind him in both races – a strong performance. After the accident on Saturday, Sean J. dealt with everything well and properly and overtook 12 cars. He also put in a brilliant performance."
Hans-Bernd Kamps, who commented from America, is also suitably positive. "Our Project 1 junior programme is well on track and I'm delighted about the performance of the rookies. At the end of the season, both are showing what they have learnt. My thanks go to the whole team. We will cope with the disappointment involving Sean Edwards and we will give it everything at the end."
The next two races will take place in the dunes of Zandvoort on 28th and 29th September.
News and background information about the race and about Project 1 can be found on the website and on Facebook.
Current positions – drivers' championship:
1 Kévin Estre 201
5 Sean Edwards 146
10 Jeffrey Schmidt 81
17 Sean Johnston 33
Racing calendar – Porsche Carrera Cup Germany:
Zandvoort 29.09.2013
Hockenheim II 20.10.2013
This entry was posted on Tuesday, September 17th, 2013 at 2:08 PM and is filed under
All
,
Porsche Cup
. You can follow any responses to this entry through the
RSS 2.0
feed. You can skip to the end and leave a response. Pinging is currently not allowed.