The sixth race of the Porsche Mobil 1 Supercup took the teams to the Ardennes, to Spa-Francorchamps. The tradition-steeped Belgian race is viewed by every driver as a highlight of the Supercup racing calendar and always offers spectators and fans spectacular motorsport. Project 1's starting point was obviously to defend and to further build upon their lead in the drivers' championship. After promising performances, Sean Johnston hoped to win further championship points with a finish in the top 15.
For a long time, the race, which consists of 11 laps of the 7.004km long circuit, offered very little real tension. Even though the drivers put a great deal of pressure on each other, there were no exciting overtaking manoeuvres amongst the leaders. Everything pointed to a pole-to-flag victory for Kuba Giermaziak but, on the last lap, everything changed. With an eye on the championship, Sean Edwards had cleverly kept out of all rough battles for position and for a long time was in third position behind Giermaziak and Bachler. A few bends before the finish, Giermaziak was forced to give in to a technical defect and give up his position. Bachler and Edwards therefore moved up a position.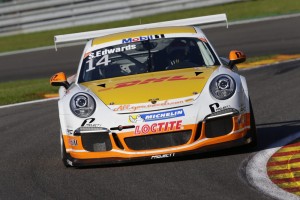 For Sean Edwards, everything ran to plan. "It was a shame and annoying for Kuba, for it was a perfect result for us. At the end, all my competitors drove for me. Thanks to the team, who put a fantastic car at my disposal over the whole weekend. For us, it's now a question of finishing the final three races and taking the points." After his second place in Spa, Edwards' lead is now 26 points over Nicki Thiim and 30 points over Michael Ammermüller. With 60 points still to be distributed in Monza and Abu Dhabi, where two races will take place, Team 'Allyouneed by Project 1' is right on course for the championship.
For rookie Sean Johnston, despite a strong and error-free performance, with plenty of battles for position, it was a thankless result, for at the end he just missed out on championship points. However, Sean J. put in his best performance of the season in Spa and took a top result. The field was very close together and Sean J. confidently kept Porsche professionals with a great deal more experience behind him. He himself views the race in Spa as further experience in a long learning curve: "The race was good for me. When you think that this was my first race here in Spa. It was an amazing feeling to drive through the 'Eau Rouge' with my opponents. We're happy and thanks to my team for a great job. With the improvement in my performance I'm looking forward to Monza."
Team boss Paul Schlotmann is also completely happy with the performance of his team. "I'm really happy with the entire performance over the weekend. Both drivers delivered a clever and error-free race. Both rookie Sean Johnston, who took on drivers such as Bleekemolen and Engelhardt, and Sean Edwards, who didn't take any risks. With P2, we can build on our lead in the championship, and in the last three races we are right on track. Thanks to my whole team, who again worked superbly and without errors. With such a performance we're looking forward to Italy."
The third to last race in the Porsche Mobil 1 Supercup will take place in just under two weeks' time on 8.9.2013 in Monza.
News and background information about the race and about Project 1 can be found on the Project 1 website and on Facebook, and on our partner website, racecam.de.
Current positions – drivers' championship:
1 Sean Edwards 88
2 Michael Ammermüller 80
3 Nicki Thiim 76
23 Sean Johnston 2
Racing calendar – Porsche Mobil 1 Supercup:
Monza 08.09.2013
Abu Dhabi 03.11.2013
This entry was posted on Monday, August 26th, 2013 at 2:00 PM and is filed under
All
,
Porsche Cup
. You can follow any responses to this entry through the
RSS 2.0
feed. You can skip to the end and leave a response. Pinging is currently not allowed.