E-mail: seanedwards.eu@gmail.com
Telephone: +44 (0)7736 230 286
Sean Edwards is one of the top driver coaches around the world and what he offers in terms of experience, knowledge and coaching is invaluable for any level of driver. Anyone can benefit from his coaching, even Formula One drivers take coaching these days, as the biggest improvement in lap times normally comes from the driver.
You could spend a huge amount of money on the car, with suspension, wheels, aerodynamic parts, engine upgrades and so on, which might gain you a few seconds if you know how to use their potential. But on average, a day with Sean can knock 5-10 seconds off your lap times, making you a safer, more competent, knowledgeable and all around better driver, by understanding what the car and yourself can achieve. There have been instances where relative novices have gained 20-30 seconds from a day out with him.
There is really no faster way to improve your driving and at only half the cost of a set of tyres!
Coaching Style
I am a very calm coach and come across clearly with my instructions. I will not overload you with too much information at any one time, which is very important so you can concentrate on a specific area. Depending on how you react to instruction, the day is tailored to what I think you can really achieve with the aim of trying to maximize what you can learn.
Every client is different and needs a slightly different approach, to try and get the maximum out of the day. With my many years of experience in coaching and racing, I am able to pinpoint how to approach each person and work on their weaknesses very quickly and precisely to improve their driving.
GPS Data Analysis
I use a very advanced system called the DL1 Data Logger, which is really an amazing tool to work with. It maps Speed, G-force and outlines the track to see exactly what you are doing and where.
At some point during the day, I will set a benchmark lap for us to use as a comparison against your laps throughout the day and pinpoint exactly what and where we need to concentrate on.
I can send you these data files via e-mail afterwards, so you can analyse them and keep them for future use.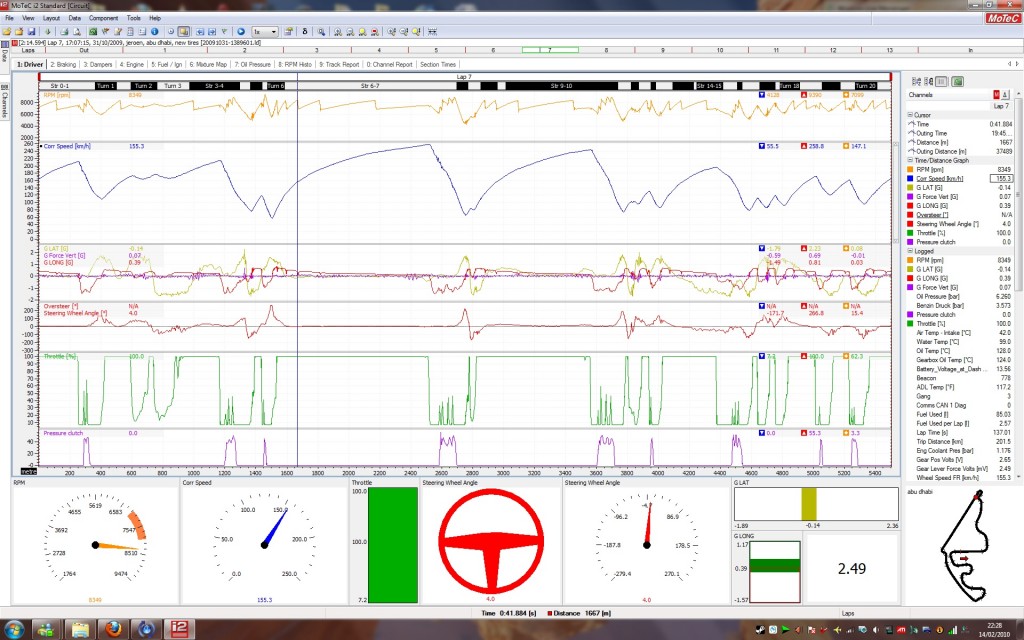 Intercom System
I use the very latest and best intercom system, the World Rally Championship Stilo equipment, so we can calmly speak on the track and in the pits without having to shout and most importantly no missed instructions which can lead to big mistakes! I have a range of helmets to supply the client with (S, M, L & XL).
Who is Sean Edwards?
Sean Edwards has over 13 years of international racing under his belt, with a huge amount of success in all categories. These days he specializes in racing Porsche's all over the globe, in all the major international championships.
Sean is known as a Porsche 911 specialist around the world, and because it's one of the hardest cars to drive with the weight distribution being how it is, some coaching techniques are unique to the 911. Using his race winning experience in the most competitive Porsche championship in the world, the Mobil 1 Supercup which supports Formula One, he teaches all sorts of 911 owners how the car works and how they can get the most out of it. He also has vast experience coaching and driving in Ferrari's, Lamborghini's, Aston Martin's, BMW's and Lotus's among others.
-FIA European GT3 Champion, Porsche Cup Champion and Teams Champion, three wins and six podiums
-Porsche Mobil 1 Supercup, Rookie Champion, Teams Champion, two wins and three podiums
-Pole Position, Fastest Lap and Winner of his first ever race in a Porsche. British GT at Silverstone
-BRDC Formula Ford, one win and four podiums
-FIA GT Podiums
-Porsche Carrera Cup Germany Podium
-One of the youngest ever International GT winners at only 18 years old
-BRDC Superstar and Full Member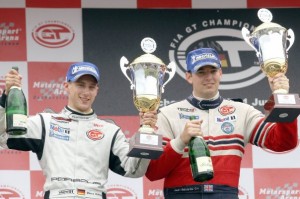 What techniques you will I learn?
How to push yourself and the car to the limit, to reduce your lap times greatly.
-Positioning of the car on track.
-Weight transfer and how it affects the handling.
-Oversteer and understeer, what they are and how to correct or solve them.
-When to apply the power and how this affects the overall corner speed and balance of the car.
-Trail braking, when and how hard to brake and the transition of braking force throughout the braking zone.
-Racing lines, for dry and a wet track.
-Vision and how important it is to be looking through the corner.
-Heel and Toe, for downshifting properly.
-Individual track secrets, which would normally take years of experience to find out.
+many more basic and advanced track/racing techniques.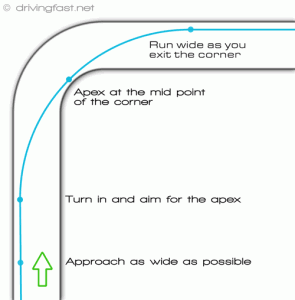 How is the day structured?
-8.30am, arrival at the track to meet up with Sean.
-8.40am, track day organiser's safety briefing.
-8.50am, try on your open face helmet with intercom system, to see which size fits best
-9.00am, track opens.
-Slow demo laps by Sean to show the lines and explain some techniques, if you do not know the circuit.
-In car coaching, out of car theory and data analysis.
-High speed demonstration laps, to show what the car can actually do and put what Sean's teaching you into visual practice.
-12-1pm, track shut for lunch.
-In car coaching, out of car theory and data analysis.
-5.00pm, track closes for the day.
-Written notes sent via e-mail afterwards on what you need to be improving on for when you next attend the track.
Of course you can pick Sean's brain with any questions you have about your car or race series or what to do in different situations and just general driving questions you wish to know!
What car should I use?
Any road going or race car can be used on track, it doesn't have to be the fastest thing in the world to learn the techniques of track driving. Usually the client will bring their own car, but Sean does have access to a range of cars from various companies which include Porsche's, Lotus's, BMW's, and Caterham's.