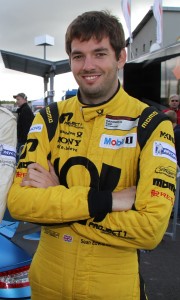 Stopped race, safety car, drive through penalties and a huge number of damaged vehicles. The Porsche Carrera Cup races in Zandvoort could not be topped for turbulence. No-one at Project 1 was really happy with the weekend. And yet in the practice session, everything ran to plan, especially for the rookies, who were driving on new tyres. Sean Johnston finished his first outing in the Zandvoort dunes in P2 and Jeffrey Schmidt in P4.
For Sean Johnston, the weekend was a rollercoaster of emotions. After his brilliant performance in practice, he hoped for a similar result in qualifying, and at first everything looked good. For a long time he lay in 2nd position, until his own driver error led to his hopes disappearing over the horizon, as he made contact with a crash barrier and his damaged radiator meant that he could no longer compete effectively. While his good first time meant that he started in seventh position in the second race, on Saturday he had to make do with starting in 21st position. These ups and downs continued in the race. Starting in P21, Sean Johnston battled in a great race to 9th position. "The performance in qualifying was great, unfortunately I cost myself an even better position because of a mistake. A huge thank you to my team, which got my car going again so quickly. To get from P21 to P9 is a great result and just shows what's possible." The second race was, however, sobering. "Starting in 7th position, I was counting on more but unfortunately in turn 1 I braked on the cooling fluid of an opponent and had to go into the pits to get a new front wheel. It was a shame for me and the team, which had worked so hard." At the end of the day, the 22-year old Sean Johnston had to make do with 25th place in the second race.
Rookie Jeffrey Schmidt wanted to attack the rankings in the best rookie championship in Zandvoort. Only 5 points separated him from Porsche Junior driver Connor de Phillippi. But here too things didn't work out as intended. After qualifying, the Swiss driver started in P15 and P11, well within striking distance, but unfortunately the race ran far from smoothly. In the first race, Jeffrey Schmidt was caught up in the chaos at the start. "In the first race, I had really bad luck. The collision left my car too badly damaged. The race stop after 2 laps meant that the cars had to go into the parc ferme and we therefore had no chance to repair the 911. I therefore had to miss the re-start on Sunday morning so that we could prepare the car for the second race." In the second race, the 19-year old junior driver finished in 11th position, thereby winning a further 5 points in the championship. Championship competitor de Phillippi finished his races in 4th and 8th place, and is on his way home with a total of 109 points. The gap to Jeffrey Schmidt has now grown to 22 points before the final in Hockenheim.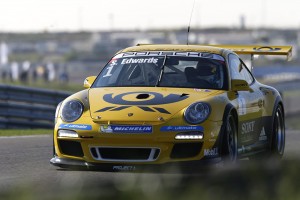 After the two races, Sean Edwards did justice to his ambition to take home the title for 'overtaking the most cars'. Starting as championship favourite, the bad luck which has been true to him all season stayed loyal in Zandvoort. Qualifying for P4 and P2, he was the main and wholly innocent casualty of the collision at the start of the first race. A puncture on the second lap sent him right to the back of the field, shortly before the race was stopped. And as if that wasn't enough, in the second race his hopes didn't last long. During the formation lap he had problems with his coolant and Sean Edwards had to start from the pit lane. He himself was appropriately reserved: "In qualifying, everything went well and I hoped that everything would run smoothly this time. I've no idea who's jinxed me but this Carrera Cup bad luck seems to be sticking to me like a curse. There's only one thing left for me to do: to say a big thank you to my team. Again, the team gave me the quickest car. Maybe in Hockenheim I should just start at the back, without bothering with qualifying." The championship is, even theoretically, no longer attainable, but 3rd place in the championship is a realistic and attainable goal for Hockenheim.
Despite everything, 'Team Deutsche Post by Project 1' wants to say goodbye in style at the final in Hockenheim, and win the 40 points that are still up for grabs. Team boss Paul Schlotmann is hoping for a significantly less turbulent race: "The races here in Zandvoort were really nerve-wracking. Despite all the set-backs, my team did an amazing job and I'm sure that in Hockenheim, we'll show what we can really do."
News and background information about the race and about Project 1 can be found on the website and on Facebook.
Drivers' championship – current positions:
1 Kévin Estre 209
5 Sean Edwards 160
10 Jeffrey Schmidt 87
17 Sean Johnston 41
Racing calendar – Porsche Carrera Cup Germany:
Hockenheim II 20.10.2013
This entry was posted on Wednesday, October 2nd, 2013 at 2:15 PM and is filed under
All
,
Porsche Cup
. You can follow any responses to this entry through the
RSS 2.0
feed. You can skip to the end and leave a response. Pinging is currently not allowed.