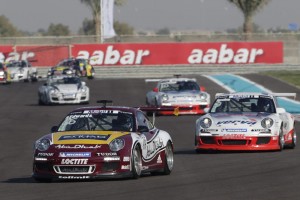 After the accolade as best team of the season in Porsche Carrera Cup Deutschland a few weeks ago, 'Team Abu Dhabi by tolimit' secures the vice-championship in Porsche Mobil 1 Supercup in front of its home crowd in Abu Dhabi.
'Team Abu Dhabi by tolimit' pilot Sean Edwards finishes the season on the 4th place of the driver standings with the same amount of points than the third ranked driver, but unfortunately with less race wins. Team mate Jeroen Bleekemolen secures 6th place equally tied to the 5th ranked driver. And local hero Khaled Al Qubaisi finished the season on 17th position with 15 points overall.
For Brit Sean Edwards, the weekend in Abu Dhabi didn't run according to plan. After having started both races from 7th place, he was only able to make up one position in race one and finished the 2nd round on position 4. Jeroen Bleekemolen also lacked the ideal starting position, although the speed was good in both races. Having started from 6th and 5th place, he scored positions 7 and 5 respectively in the races. Khaled Al Qubaisi experienced some bad luck. The Emirati star finished the first race on position 17 and was not able to finish the second round due to a breaking failure.
Sean Edwards: "Being tied onto the 3rd ranked driver and missing the podiums finishing 4th in the end is obviously a bit disappointing. But we need to look forward to next year's season. The year went well for the team. The vice championship is well deserved."
Jeroen Bleekemolen: "After Engelhart hit me, the second race was almost over for me. I am pretty happy that I was able to finish it, however, was obviously lacking all competitiveness. Finishing on position 6 of the driver standings is not very satisfying for me, however, motivates for the coming season."
Khaled Al Qubaisi: "That was obviously not the way how I wanted to finish the season. After breaking late on Sebastian Bleekemolen, the car locked up and I ended in the wall. But I had the right speed and I enjoyed the races in front of my home crowd a lot."
tolimit head of motorsport and Supercup team manager Michael Seifert: "I look back on the season with mixed feelings, as we obviously would have preferred to win the title. We put in a lot of effort and passion into this season. That makes me proud. This year, we became best Porsche team at the 24 hours of Dubai, secured the team titles in Porsche GT3 Cup Challenge Middle East and Porsche Carrera Cup and now secured the vice championship in the Supercup. After my first year as head of motorsport, I am obviously very happy with these results."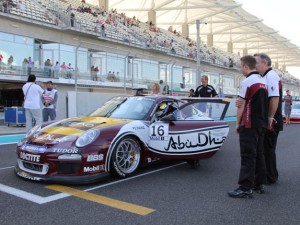 tolimit managing director Hans-Bernd Kamps: "We gave our best on and off the track this weekend and that's what everyone is used to see from us. Being the runner-up obviously means that we are not champion, but nevertheless the vice championship is a great reward for the team as well as for our partners at Abu Dhabi Tourism Authority, Deutsche Post, aabar, SR Technics, Windreich and Etihad. I am using this opportunity to express my sincere thanks to them for their support. We look forward to next season."
This entry was posted on Wednesday, November 16th, 2011 at 7:57 PM and is filed under
All
,
Porsche Cup
. You can follow any responses to this entry through the
RSS 2.0
feed. You can skip to the end and leave a response. Pinging is currently not allowed.