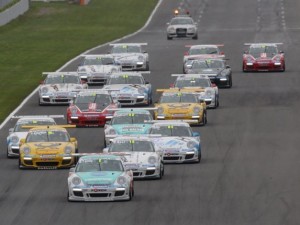 'Team Deutsche Post by tolimit' successfully maintained the lead in the team standings of the Porsche Carrera Cup Deutschland at the second to last race of the season in Oschersleben. Having started from position 4, Sean Edwards experienced a short run off track and once again showed an impressive catch-up race to eventually finish 5th. Robert Renauer, who replaced Jeroen Bleekemolen at this round, achieved a solid 8th place.
Qualifying in Oschersleben didn't turn out as expected. In the first part of the session, Sean Edwards was fastest, however, after the change of tyres for the second part, he finally scored 4th behind his direct competitor Nick Tandy. Robert Renauer didn't have a perfect qualifying, too. In his last flying lap he braked too late into the last corner and eventually had to start from 8th instead of 4th.
In the race, Sean Edwards had a good start, maintained his 4th position and overtook Nicki Thiim in the first lap. However, a braking error caused a short run off track and took him back to 8th place. After a great catch-up race, the runner up in the driver standings eventually finished 5th with a gap of 12 points to championship leader Nick Tandy. Robert Renauer showed a solid performance and collected precious points for the team while finishing 8th.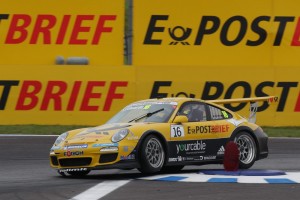 Sean Edwards: "My start was ok. Unfortunately, I lost my front lip spoiler when driving over a kerb and that obviously affected the balance of the car. So I simply tried to collect as many pints as I could. Maybe we will have some more luck in the season finale in Hockenheim and be able to also win the driver championship aside of the team championship."
Robert Renauer: "Those were some pretty awkward conditions for me. My last race in the cup car happened a while ago, so I don't have the most of experience in the rain currently. Positions 5 and 8 respectively, obviously aren't the result we wanted, but we continue to lead the team standings."
tolimit managing Hans-Bernd Kamps: "I am not satisfied with the result of today. We want to win both the team and driver championship for our 'Team Deutsche Post by tolimit'. We will fully concentrate on that in our preparation for the season finale in Hockenheim."
More information on the team is available on www.tolimit-motorsport.de and on www.facebook.com/tolimit.
The race dates:
October 23, 2011 DTM Hockenheimring Baden-Württemberg, Germany
This entry was posted on Sunday, September 25th, 2011 at 4:55 PM and is filed under
All
,
Porsche Cup
. You can follow any responses to this entry through the
RSS 2.0
feed. You can skip to the end and leave a response. Pinging is currently not allowed.