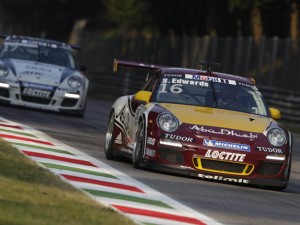 After a solid performance in yesterday's qualifying of the Porsche Mobil 1 Supercup round in Italian Monza and starting positions 4, 5 and 23 respectively, 'Team Abu Dhabi by tolimit' experienced a jet black day come race day. Title contender Sean Edwards was involved in an unlucky incident in the first part of the race and wasn't able to finish the competition. Team mate Jeroen Bleekemolen span, fell back to the back of the field and caught up to position 13. Khaled Al Qubaisi spun from the track and didn't see the chequered flag, too, however, was finally weighted 21st.
Due to not scoring points, Sean Edwards fell back to position 4 in the driver standings, however, still has all chances to win the title in the season finale in Abu Dhabi, where two races will be carried out. Jeroen Bleekemolen ranks 6th in the championship.
In the team standings, 'Team Abu Dhabi by tolimit' still ranks 2nd with good chances for the title in the season finale.
Sean Edwards: "That was the full package of bad luck today. After a good start, I was fighting with the leading pack, when Balzan ran wide. When he rejoined, he forced me to take the outside line and Siedler touched me from the back. The inevitable contact with my right rear fired me into a spin and hard into the inside wall. That's for sure not the result that I wanted, but one thing is for sure: I will fight until the end."
Jeroen Bleekemolen: "Definitely not a good race for all of us in the team. I had a reasonable start, but then got stuck in the field and someone hit me from behind. I had to cut the chicane and lost a lot of positions. Afterwards I had a good speed and was faster than Tandy. But then coming out of the 1st chicane, I simply dropped my right rear in the gravel and spun. That was my mistake and I can't even remember the last time something like this happened to me. I am very sorry for the team. As my car was good, I was able to make up a lot of positions, but due to the safety car being out that long, position 13 was all I could do in the end."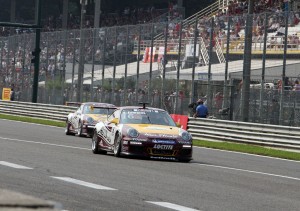 Khaled Al Qubaisi: "I was struggling with my grip the whole weekend. In the race, every one of us had some incidents and I was coming off track, too. That wasn't a good day for the whole team, but for sure we will be pushing hard in the season finale. There's nothing more to say."
tolimit head of motorsport and Supercup team manager Michael Seifert: "If bad luck hits you, for sure it hits you hard. Sean had been in a good position in the race before hitting the wall. We had a look on the broadcast of course and I have to say that according to my experience and the video, we have to tick this off as a race incident. There simply were too many cars at one place. That's bad luck, but a matter of fact. Jeroen and Khaled both spun, especially in Jeroen's case this happens very rarely. But that's racing. Although it is quite difficult at the moment for us, we need to keep our heads up and prepare everything for our comeback in the Abu Dhabi season finale."
tolimit managing director Hans-Bernd Kamps: "That's not the result we wanted to have, but if it was easy everyone would be able to do it. I can only say that we will be back at full force in Abu Dhabi. Together with the whole team, we will be working intensively in the next weeks to be perfectly prepared for the finale: now more than ever."
More information on the team, results and photos can be found on www.facebook.com/tolimit and www.tolimit-motorsport.de
The race dates:
November 13, Abu Dhabi
This entry was posted on Tuesday, September 13th, 2011 at 8:00 PM and is filed under
All
,
Porsche Cup
. You can follow any responses to this entry through the
RSS 2.0
feed. You can skip to the end and leave a response. Pinging is currently not allowed.