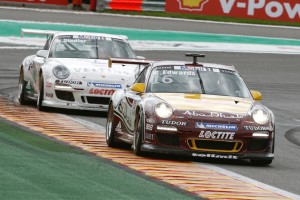 Mixed emotions at 'Team Abu Dhabi by tolimit' while Jeroen Bleekemolen from 'Team Abu Dhabi by tolimit' hardly missed the podium with a 4th place at the Porsche Mobil 1 Supercup round in Spa-Francorchamps, team mate Sean Edwards chose the wrong line at the start, achieved position 6 and had to hand over the lead in the driver championship. Khaled Al Qubaisi achieved another good result with position 18 at the challenging and iconic Belgian track and due to guest starters ahead of him secured two more championship points.
In a qualifying session full with yellow flags, neither Sean Edwards nor Jeroen Bleekemolen or Khaled Al Qubaisi managed to smash a completely free lap. Nevertheless, starting positions 3 for Edwards, 6 for Bleekemolen and 19 for Al Qubaisi were better than expected under these conditions.
Sean Edwards: "Unfortunately, my qualifying was destroyed by yellow flags, but my first lap fortunately was good enough for position 3. In the race, I actually had a good start, but no place to go in turn one, so I had to open the door for Tandy. I thought it would work out to get past him again, but then I got on the marbles and also had to let Jeroen and Rast pass by. Then Engelhart hit me later on, too. 6th place is obviously not what you hope for when started from 3rd place, but the championship is still wide open. So I am concentrating on the next race in Monza."
Jeroen Bleekemolen: "We took a bit of a gamble in the qualifying and went out late, but my laps were compromised by yellow flags, too. My race was quite ok, but some of the other pilots cut off every single curve in every single lap. That makes me wonder and I hope that the stewards will have an eye on it. My car was good and it would have been good enough for the podium if everyone would have stuck to the regulations."
Khaled Al Qubaisi: "The qualifying was strange. My wish came true and it rained, but then so much water fell down from heaven that we decided to wait a bit until it becomes less. And then I only had two flying laps that were affected by the yellow flags, too. Two laps are simply not enough for me to get into the rhythm. The race afterwards was pretty crazy. I had a great start and almost ran into Matthias Lauda. The track was completely dry, so I had to get used to the new breaking points. That took me quite some time, but then I caught up to the mid field. As there are some guest starters in front of me, I will get two championship points for position 18. I am happy with the result."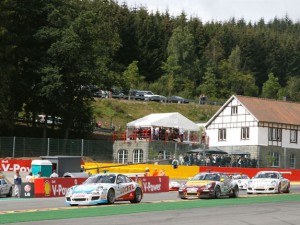 tolimit head of motorsport and Supercup team manager Michael Seifert: "Not an ideal weekend for us. Unfortunately, Sean took the wrong line at the start. Jeroen, however, drove a good race, and could have even achieved a podium position. And Khaled again collected some championship points. With view to the team championship, the result is ok. We are still on the 2nd position and within reach of the title."
tolimit managing director Hans-Bernd Kamps: "It's not my style to be hypothetical. I am facing reality and this means that there are still three races to go where we can show our full potential and win the team and driver championship."
More information on the team, results and photos can be found on www.facebook.com/tolimit and www.tolimit-motorsport.de
The race dates:
September 11, Monza, Italy
November 13, Abu Dhabi
This entry was posted on Sunday, August 28th, 2011 at 7:21 PM and is filed under
All
,
Porsche Cup
. You can follow any responses to this entry through the
RSS 2.0
feed. You can skip to the end and leave a response. Pinging is currently not allowed.