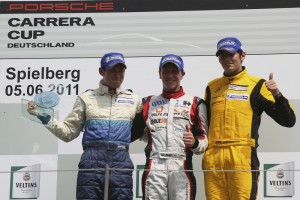 At the recently re-opened 'Red Bull Ring' in Austrian Spielberg, 'Team Deutsche Post by tolimit' pilots Sean Edwards and Jeroen Bleekemolen finish the Porsche Carrera Cup race on positions 3 and 4. The team therefore leads the team standings with 92 points overall and a 23 point gap ahead of the runner-up. In the driver standings, Jeroen Bleekemolen ranks 2nd ahead of Sean Edwards on position 3.
It was a weekend with mixed weather conditions with rain, sun and even thunderstorms at the 4.326 km race track in Styria.
Sean Edwards qualified his yellow Porsche 911 GT3 Cup on 2nd place, only 15 thousands of a second behind the pole setter: "I haven't achieved a pole position in Porsche Carrera Cup yet, although I do have some in Supercup. 15 thousands of a second are a very short gap behind the pole setter, but I am starting from front row and ahead of my championship competitors."
Team mate Jeroen Bleekemolen experienced a satisfying qualifying, too: "I had some traffic in the second sector, but 4th position is ok. The car is good and we should be strong in the race."
This preview should turn into reality. Although Sean Edwards lost one position at the start, both pilots drove a superior race and finished on positions 3 and 4.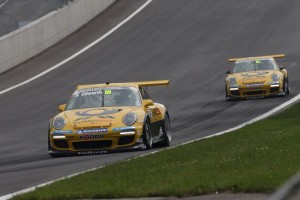 Sean Edwards: "The start was a difficult one. I hadn't anticipated that there was so much grip on the new tarmac. Nick Tandy had a better start and just got passed me into the first corner. After that I made a small error and went off track and got a lot of dirt on my tyres which prevented me from keeping the pace of the front. Nevertheless 3rd place is not too bad of a result and means good points for the championship."
Jeroen Bleekemolen: "For me it was a nice race with a lot of duels. At the start I lost a bit of time due to a duel against Jan Seyffarth who pushed from the back. Later I had a nice battle with Sean and managed to be faster than him, but rather stood back than risking too much. 4th position isn't bad, although I would have hoped for more."
Porsche Carrera Cup team manager Paul Schlotmann: "A good result for the team. We extended the lead in the team standings and achieved the aim we set ourselves. It was well worth to completely check through both cars for Spielberg. Now we are looking ahead to the next race at the Lausitzring."
tolimit managing director Hans-Bernd Kamps: "Team work worked out brilliantly throughout the weekend. The technical crew around Kosta Kotitsas did a great job and as always provided perfectly prepared race cars. However, I wasn't satisfied with the duel of our drivers at the end of the race. Nevertheless, we already talked about it and agreed to behave more team-oriented in the future."
All results and news about the race weekend can be found on www.facebook.com/tolimit.
The race dates:
June 19, 2011 DTM EuroSpeedway Lausitz, Germany
June 25, 2011 Carrera World Cup 24h Nürburgring, Germany
July 3, 2011 DTM Norisring, Germany
August 7, 2011 DTM Nürburgring, Germany
September 18, 2011 DTM Oschersleben, Germany
October 23, 2011 DTM Hockenheimring Baden-Württemberg, Germany
This entry was posted on Monday, June 6th, 2011 at 12:00 PM and is filed under
All
,
Porsche Cup
. You can follow any responses to this entry through the
RSS 2.0
feed. You can skip to the end and leave a response. Pinging is currently not allowed.