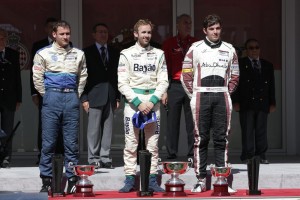 At the highlight race of Porsche Mobil 1 Supercup in the principality of Monaco, 'Team Abu Dhabi by tolimit' drivers Sean Edwards and Jeroen Bleekemolen finished on positions 3 and 4. Khaled Al Qubaisi unluckily had to retire due to a broken drive shaft in the introduction lap.
As always on the tight streets of the principality, qualifying was crucial on that weekend. Sean Edwards achieved starting position 4: "The car was good in qualifying, but I had a lot of traffic and yellow flags in my fast laps. In the last one, I unfortunately hurt my mechanic on his hand when going out. Sorry Peppi. But meanwhile, he is better again."
In the race, the 24-year-old Brit was able to catch up one position: "Obviously the start was crucial in Monaco. I had a good one, although I put in the second gear a bit too early. But my strategy was to stay on the outside and in doing this I got passed Kuba on position 3. Jeroen also got passed, so good start for both of us. Later I just tried to have a constant race. Finishing 3rd in Monaco is great. Thanks to everyone and especially to Peppi, my mechanic, who fortunately doesn't have anything broken in his hand."
Jeroen Bleekemolen was fighting with the traffic in qualifying, too: "On the new tyres, I had a lot of traffic and yellow flags, but a lot of drivers faced these problems. Congratulations to René Rast, who dealt with this situation best. I could have been maybe 3 or 4 tenth of a second faster without all these disturbances." In the end, he achieved starting position 5.
In the race, he also caught up one position at the start: "I really had a great start and got passed Kuba, who blocked me a bit, but in a fair way. Otherwise, I could have maybe even achieved 3rd at the start. Later on, I just tried to stay out of trouble, so my race was quite boring. I spent a few laps watching the boats in the harbour, so nevertheless it was fun."
Same as his team mates, Khaled Al Qubaisi fought with the interruptions in qualifying, too: "I tried to improve lap by lap. But on my second set of tyres, I wanted a bit too much and touched the barriers e at the exit of the tunnel." In the end it was position 22 on the grid for him.
The race of the 35-year-old business man from Abu Dhabi, was over faster than expected. A broken drive shaft forced him to retire already in the introduction lap. "It is a good result for the team with position 3 and 4. Luckily my drive shaft broke in the introduction lap and not at the start. Now I guess I had enough bad luck and look forward to the next race and do it better."
tolimit head of motorsport and Supercup team manager Michael Seifert is, however, satisfied with the result:"Sean had to give up his lead in the driver championship by two points, however, we caught up significantly in the team standings with his and Jeroen's result. A great team effort. Khaled seems to have rented bad luck. First it was the barriers in qualifying and then the drive shaft in the race. We will need to sort that out and make sure that he can push again in the next race. "
The race dates:
June 25, Nürburgring-Nordschleife, Germany
July 10, Silverstone, Great Britain
July 24, Nürburgring, Germany
July 31, Budapest, Hungary
August 28, Spa-Francorchamps, Belgium
September 11, Monza, Italy
This entry was posted on Saturday, June 4th, 2011 at 3:31 AM and is filed under
All
,
Porsche Cup
. You can follow any responses to this entry through the
RSS 2.0
feed. You can skip to the end and leave a response. Pinging is currently not allowed.