Team 'Abu Dhabi by tolimit's Sean Edwards was the dominating pilot in this weekend's Porsche Mobil 1 Supercup race in Barcelona with a faultless race from start to finish. Team mate Jeroen Bleekemolen finished fifth. Khaled Al Qubaisi unluckily fell out in the first lap of the race.
It was a perfect weekend for Sean Edwards. Already the qualifying session went to his utmost satisfaction: "It was a very good qualifying. The car was really good and I set an almost faultless lap at the very beginning of the session. And this was the pole." In the race, the young Brit took the lead right away from the start."This was obviously a great race. Although Nick Tandy had a slightly better start, I managed to hold him off and then got a big enough gap to keep it until the end. A big thanks to the team for a perfect weekend. Hopefully we can keep this performance on to Monaco."
Team mate Jeroen Bleekemolen was not as satisfied with the race weekend: "It was a quite disappointing qualifying. The car was good, but I had some issues with the brake balance on my first set of tyres and went off track three times. Although it would have been important to set the fastest lap at the beginning, I was able to improve my time on my second tyre set. But to start form 5th is obviously not the best precondition for the race." The race of the driver, who is well-known for his fairness, was then dominated by another duel with René Rast: "It was really disappointing. René blocked me for the second time now and touched me when breaking. So we both went off track and lost one position. I was able to gain it back later on, but with all the pick-up on the tyres, wasn't able to fight for the front."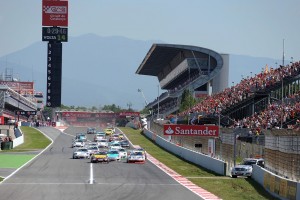 Khaled Al Qubaisi did not have a smooth weekend at the Circuit de Catalunya, too. Having achieved a fastest sector time under yellow flags in free practice, the pilot from Abu Dhabi had to accept a qualifying penalty: "I went out for three laps and set out a time that was ok. I wanted to save tyres, as it didn't make sense to go faster due to the fact that I was set back for 5 positions in any way due to the penalty." The race of the 35 year-old-business man from Abu Dhabi, however, was over faster than expected: "I had a good start but then was getting too close to Langhorne. I am not really sure what happened, but we both collided. I apologize to him for ruining our race. I will need to learn from it."
tolimit head of motorsport and Supercup team manager Michael Seifert is satisfied with the result:"Everything went out perfect for Sean this weekend. It's the maximum output for him with 20 points for the race and 2 for pole position. He takes the lead in the driver championship now together with Tandy who, however, doesn't have a race win yet. Congratulations. With today's results, our 'Team Abu Dhabi by tolimit' caught up one position in the team standings and now ranks second with a gap of only seven points to the front. Thanks also to Jeroen for the collected points despite of some unfair actions from our competitors. Hopfefully the fight in the front stays fair, so that I don't have to visit the stewards too often. Unfortunately, Khaled did not experience a good race weekend. It's a pity that the collision in the first lap cost him his whole race. We will do our very best to get the car repaired as soon as possible for the next race weekend in Monaco."
The race dates:
May 29, Monte Carlo, Monaco
June 25, Nürburgring-Nordschleife, Germany
July 10, Silverstone, Great Britain
July 24, Nürburgring, Germany
July 31, Budapest, Hungary
August 28, Spa-Francorchamps, Belgium
September 11, Monza, Italy
This entry was posted on Tuesday, May 24th, 2011 at 3:17 PM and is filed under
All
,
Porsche Cup
. You can follow any responses to this entry through the
RSS 2.0
feed. You can skip to the end and leave a response. Pinging is currently not allowed.