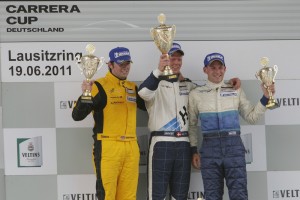 After a challenging qualifying at the Porsche Carrera Cup Deutschland race at the 3.478 km Lausitzring race track, the 'Team Deutsche Post by tolimit' with its drivers Sean Edwards and Jeroen Bleekemolen achieved the well-deserved positions 2 and 4. In an exciting race with a lot of fair overtaking and many spins, only 11 out of 21 drivers saw the chequered flag.
Having started from position 5, the Brit Sean Edwards pushed to 3rd place directly after the start, following the start winner Nick Tandy and pole setter Nicki Thiim. In lap 9, the experienced driver took advantage of a driving error from championship leader Tandy and conquered 2nd place. In the remaining laps, he pushed hard to overtake the lead driver Thiim, however, decided to play safe, as the Danish driver doesn't play a big role in the championship.
Sean Edwards: "It was a close race for sure. Qualifying was not how we wanted it to be, as we didn't manage to have the tyres working at the right time. But the race was good. It's great to be in front of Tandy, even if though I missed the momentum to overtake Thiim. Now I am tied to Jeroen in terms of championship points and hot on Tandy's heals and we will do everything to push forward in the championship."
Team mate Jeroen Bleekemolen showed a constant performance in the race, too and took advantage of the spins from René Rast and Robert Renauer who touched each other in lap 3. In the end, he achieved a very good 4th place.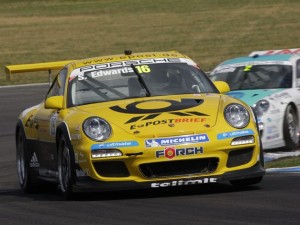 Jeroen Bleekemolen: "We didn't have a perfect lap in qualifying. But all drivers that are playing a role in the championship were close together on the starting grid. So everything was still possible. My race was ok with a lot of good duels. The car was fast but I lost some ground during the duel from Rast and Renauer. But overall I am satisfied with 4th place."
Porsche Carrera Cup team manager Paul Schlotmann: "In qualifying, our tyres showed their best performance at the end of the session, but we would have needed them to work properly at the beginning. For a quick lap at the Lausitzring, the tyre pressure needs to be perfect. However, we are pretty happy with the race. Our drivers managed the duels in a fair and clean way and a showed a solid performance with places 2 and 4."
tolimit managing Hans-Bernd Kamps: "Our 'Team Deutsche Post by tolimit' once again showed the best team performance and is leading the team standings with 124 points and a big gap to the second best team. In the driver standings, Jeroen and Sean rank 2nd and 3rd. Step by step, we will continue to move forward and I am sure we will finish the season on the very top."
All results and news about the race weekend can be found on www.facebook.com/tolimit.
The race dates:
June 25, 2011 Carrera World Cup 24h Nürburgring, Germany
July 3, 2011 DTM Norisring, Germany
August 7, 2011 DTM Nürburgring, Germany
September 18, 2011 DTM Oschersleben, Germany
October 23, 2011 DTM Hockenheimring Baden-Württemberg, Germany
This entry was posted on Tuesday, June 21st, 2011 at 7:54 PM and is filed under
All
,
Porsche Cup
. You can follow any responses to this entry through the
RSS 2.0
feed. You can skip to the end and leave a response. Pinging is currently not allowed.