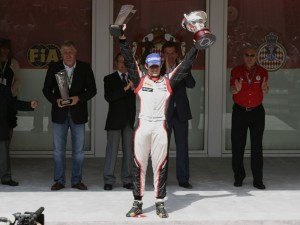 He had dreamed of winning in the glamour world of the rich and famous since he first contested the Porsche Mobil1 Supercup: Sean Edwards, the Konrad Motorsport pilot who lives in Monaco, celebrated his first victory on Sunday in the Principality on the Cote d'Azur. At the wheel of his 450 hp Porsche 911 GT3 Cup, based on the street-legal lightweight 911 GT3 RS sports car, he won round four of the world's fastest international one-make race series with a 1.257-second advantage over Frenchman Kévin Estre (Hermes Attempto Racing). Third place went to his teammate Christian Engelhart (Germany). Fourth position was enough for Austria's Norbert Siedler (VELTINS Lechner Racing) to defend his points' lead.
At the most prestigious race of the year, Sean Edwards, whose last Supercup victory was over a year ago in Barcelona, was on course to win right from the start. Taking up the 16-lap race from pole, he found the fastest line around the twisty labyrinth between high-rise apartments and high-end boutiques. Through the early retirement of Dutchman Sebastiaan Bleekemolen (Team Bleekemolen), who had shared the front row of the grid with Edwards but buried his hopes in the barrier at the exit of the swimming pool chicane in the second lap, the Briton was able to pull clear of the field. But it was not to be a solo run to the flag: Kèvin Estre and René Rast (Lechner Racing Team) lay in wait in his slipstream and put the front-runner under pressure at about the halfway distance.
Strong rookie
Setting one fastest lap after the other, title defender René Rast was determined not to let his goal of becoming the first Supercup driver to notch up three wins in Monaco go without a fight. But with five laps left to the flag, his dream died when he had to park his Porsche trackside after crashing in St. Devote. When the fan belt went, the water temperature rose and the power steering failed as a consequence. Through this, he missed the apex of the corner. As a result the safety car was deployed, which leader Sean Edwards in particular then used to his advantage. Determined not to let go of his dream he brought his first Monaco victory safely home. At the 20th Supercup race in the Principality, he was the 17th driver to win from pole position.
Supercup returnee Jeroen Bleekemolen from the Netherlands secured fifth place. Like Rast, Bleekemolen already has two Monaco victories under his belt. Behind the double Supercup champion came Supercup newcomer Michael Ammermüller driving for VELTINS Lechner Racing in sixth place after a strong drive. With this, the German moved to the top of the rookie classification, replacing the previous points' leader, Nicki Thiim (Hermes Attempto Racing) when the Dane failed to make it to the flag.
Drivers' quotes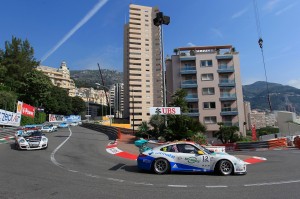 Sean Edwards (winner): "That was a fantastic race. I had a clean start and was able to pull clear of my pursuers. After that I controlled the race, even with Kévin and René close behind me. The last laps were not easy because there was a lot of oil on the track and parts were scattered everywhere. But I made it through well. I want to thank my team for this perfect weekend."
Kévin Estre (second): "Second place is a great result. Right to the end I tried to put Sean under pressure at the front and looked for my chance. I was a little faster than he, but I saw no possibility of overtaking. In the final lap I kissed the barriers but luckily nothing happened. It's a great experience to stand on the podium in Monaco."
Christian Engelhart (third): "I took off into the race from sixth place. After the qualifying I would never have guessed that it would still be enough for a podium finish. But so much happened during the race, and that makes me even happier to have secured third, especially here in Monaco."
Michael Ammermüller (sixth, best rookie): "After the qualifying I aimed to keep out of trouble, get through safely and earn points. This worked – and I'm very pleased about that."
Statistics
Race result
1. Sean Edwards (GB), Konrad Motorsport, 28:01.234 minutes
2. Kévin Estre (F), Hermes Attempto Racing, + 1.254 seconds
3. Christian Engelhart (D), Konrad Motorsport, + 2.511
4. Norbert Siedler (A), VELTINS Lechner Racing, + 3.474
5. Jeroen Bleekemolen (NL), Lechner Racing Team, + 5.312
6. Michael Ammermüller (D), VELTINS Lechner Racing, + 6.276
Points' standings after 4 of 10 races *
Drivers
1. Norbert Siedler (A), VELTINS Lechner Racing, 54 points
2. Christian Engelhart (D), Konrad Motorsport, 48
3. Sean Edwards (GB), Konrad Motorsport, 43
4. Kévin Estre (F), Hermes Attempto Racing, 39
5. René Rast (D), Lechner Racing Team, 36
6. Kuba Giermaziak (PL), VERVA Racing Team, 30
Teams
1. Konrad Motorsport, 88 points
2. VELTINS Lechner Racing, 79
3. Hermes Attempto Racing, 58
Rookie classification
1. Michael Ammermüller (D), VELTINS Lechner Racing, 28 points
2. Nicki Thiim (DK), Hermes Attempto Racing, 19
3. Patryk Szczerbinski (PL), 14
* Although the race in Barcelona was cancelled, the extra points for pole position were still awarded.
Valencia preview
Valencia: Preview to the 5th of 10 races on 24 June
After a year's break, the Porsche Mobil1 Supercup returns to Valencia. The 5.419 kilometre Valencia Street Circuit around the America's Cup harbour of the Spanish metropolis is not a typical street course. "Valencia is almost like a real race track with fast corners and wide run-off areas. This allows you to make small mistakes without ending up in the wall," says René Rast, who won the 2010 race here. Austrian Norbert Siedler, who clinched second then, travels to Spain at the top of the points' table. TV stations Eurosport and Sky broadcast the race live.
This entry was posted on Tuesday, May 29th, 2012 at 10:31 AM and is filed under
All
,
Porsche Cup
. You can follow any responses to this entry through the
RSS 2.0
feed. You can skip to the end and leave a response. Pinging is currently not allowed.