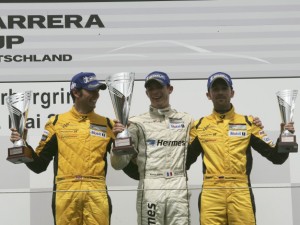 The Eifel has lived up to its reputation. The Porsche Carrera Cup teams had to deal with everything from snow to sunshine. The tolimit motorsport driver Sean Edwards was able to show off his skills on a wet track during a very wet qualifying. After setting a best time during qualification on Thursday, Sean, who lives in Monaco, fought to finish in third place. Nicki Thiim, who qualified in 2nd position, started in 7th position as a result of a penalty. Sean Edwards therefore started from the first row in 2nd position. His teammate René Rast, who also received a five place penalty at the Lausitzring, started the race from 10th position instead of 5th position. The Porsche Junior driver, Klaus Bachler, fought his way to a good 11th position in his first qualifying at Nordschleife.
After a flying start the 24 Porsche drivers were involved in plenty of battles for position. In the early stages the `Team Deutsche Post by tolimit` drivers Sean Edwards and René Rast lost places, which they then managed to make up during the course of the race. The British driver fought his way to 2nd place. René Rast, who won the Porsche Carrera World Cup last year, used his experience at Nordschleife to make a successful series of overtaking manoeuvres. He was rewarded with a podium place alongside his teammate. The Austrian Klaus Bachler finished his first race at Nordschleife in 13th place.
It was another successful weekend for the `Team Deutsche Post by tolimit'. The team from Lohne has again demonstrated its professionalism and passion for motorsport. The constellation of the two experienced Porsche Cup drivers, Sean Edwards and René Rast, round off the team perfectly. Similarly, the Porsche Junior driver displayed real fighting spirit this weekend and confidently drove his first laps on what is considered to be the most difficult race track in the world, Nürburgring Nordschleife.
Klaus Bachler: "The start was good. On the first lap of the Grand Prix stretch I managed to gain a place. On the first lap of the Nordschleife I was able to follow well. But unfortunately my lack of experience meant I wasn't fully competitive. Then I had a collision and lost my front lip. Without a front lip, Nordschleife is really difficult."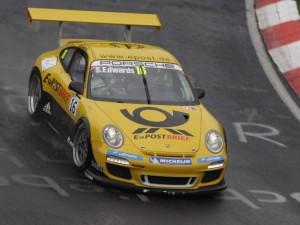 Paul Schlotmann: "The Nordschleife challenge. We've overcome the challenge extremely well, better than we expected. I wasn't expecting this result. What`s bad luck for one is good luck for another. That`s motorsport."
Hans-Bernd Kamps: "On our own, we would only have managed 3rd and 4th places, and Klaus would have been able to finish in the top 10. He performed well and sadly the minor impact caused him to drop back. Sean and René`s performances can be improved. We got a good result with 2nd and 3rd places but we need to work harder. We can do better".
Further information, results and photos can be found at www.facebook.com/tolimit and at www.tolimit-motorsport.de.
On Mondays after race weekends, the news channel N24 broadcasts a 30 minute Carrera Cup programme at 6.30pm, with reports about the race series, the drivers, the highlights and stories about the people involved in the Carrera Cup.
The Racing Calendar:
3rd June 2012 DTM Red-Bull-Ring Spielberg, Austria
1st July 2012 DTM Norisring
19th August 2012 DTM Nürburgring
26th August 2012 DTM Circuit Park Zandvoort, Netherlands
16th September 2012 DTM Oschersleben
21st October 2012 DTM Hockenheimring Baden-Württemberg
This entry was posted on Tuesday, May 22nd, 2012 at 1:46 AM and is filed under
All
,
Porsche Cup
. You can follow any responses to this entry through the
RSS 2.0
feed. You can skip to the end and leave a response. Pinging is currently not allowed.