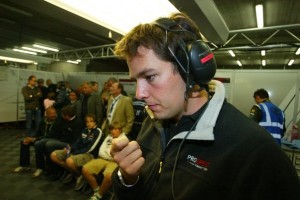 Present for the third consecutive year at the 24 Hours of Le Mans, ProSpeed Competition confirms its international line-up. This Belgian team, elected "Best Technical Assistance -Escra Prize" during the 2011 edition, reveals its latest ambitions. The Porsche 911 GT3 RSR #75, in the hands of three Porsche specialists, are out to claim a top classification in the LM GTE AM category, the second most represented category in the field. Alongside the fast Saudi Adbulaziz Al Faisal, already seen in action last year at Le Mans, ProSpeed Competition welcomes the American Bret Curtis and the speedy Sean Edwards. This Brit, a true ace of the Porsche SuperCup, had previously teamed up with the ProSpeed Competition squad during some of the European FIA GT2 Championship meetings…
Rudi Penders (Team Principal): "ProSpeed Competition discovered the 24 Hours of Le Mans back in 2010, finishing the event as first "100% private" team. Last year the iBird impressed and awaken everyone's spirits, a well as the quality of our technical support during the "pit stops". Our objective in 2012 is to cross the finishing line for the third consecutive time and to continue to progress. A podium in the LM GTE AM class? Yes, we'll be doing everything to achieve that."
Abdulaziz Al Faisal (UAE – 4th June 1983 – 2nd participation): Racing is an activity that Abdulaziz Al Faisal takes very seriously. In 2011, he joined the RedBull Athlete Team to test the RedBull F1 simulator at Milton Keynes. Back in the Middle East his driving skills are renowned and feared. Amongst his record of achievements; two crowns in the Porsche Carrera Cup Middle East (2010 and 2012), two podiums in the 24 Hours of Dubai … not forgetting his earlier debut in Formula BMW (3e – 2007). Present last year in the European FIA GT3 Championship (BMW), he is the ideal ambassador for his country, Saudi Arabia. He first appeared at the Le Mans event back in 2011, and on that occasion already behind the wheel of a Porsche 911 GT3 RSR.
Bret Curtis (USA – 13th December 1966 – 1st participation): Born in Valencia, Pennsylvania, Bret Curtis is a businessman very much at home in the motorsport world. Founder of Spectra Resources (2002) and United Steel Supply (2007), he has been enjoying his passion since 2009 (Imsa GT3 Cup). Following a season in ALMS (2010) at the wheel of a Porsche 911 GT3, he decided in 2011 to compete in the 24 Hours of Daytona (Porsche), the 12 Hours of Sebring (Porsche) and the 24 Hours of Spa (Mercedes). At the beginning of this year he was to be seen at the start of the 12 Hours of Sebring (Lola B11-Honda).
Sean Edwards (GB – 6th December 1986 – 1st participation): Karting as from the age of 11 years, followed by Formula Ford UK (5th) and Formula Renault UK (5th), Sean Edwards swiftly turned his talents to the GT world, winning the European FIA GT3 Championship (2006). This young man is presently competing in the Porsche SuperCup… held during the F1 Grand Prix. Here he has accumulated "pole positions", podiums and victories! He is also active in GrandAm (Porsche) and recently clinched victory in the 24 Hours of Dubai (Mercedes). Cinema aficionados will undoubtedly recognise him in Ron Howard's film, "Rush". He will be playing the part of his father, the racing driver Guy Edwards, caught up in the battle between James Hunt and Niki Lauda during the 1976 F1 season.