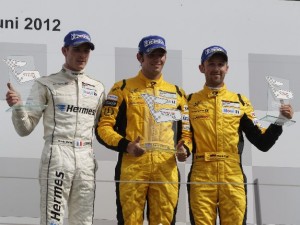 Eventful racing and exciting overtaking manoeuvres were on offer in the two races of the Porsche Carrera Cup at the Red-Bull-Ring. Klaus Bachler, one of six Austrians on the starting grid, achieved his first podium place of the season in Saturday's race. Klaus, who is from Styria in Austria, crossed the line in 6th place, behind his teammates Sean Edwards in 2nd place and René Rast in 4th place. However, these turned out not to be the final results. Several drivers received time penalties for driving too fast past an accident. Among others, Sean Edwards and René Rast were given 30 second penalties, putting the British driver in 11th place and the German driver in 14th place.
Sunday's race was less eventful than Saturday's race, although there was an accident right at the start, followed by a long safety-car phase. After the 5th lap the Porsche Carrera Cup drivers were able to get going. Sean Edwards delivered a superior start-finish win. The 'Team Deutsche Post by tolimit' driver René Rast also achieved a podium position, finishing the race in 3rd place. The team from Lohne therefore celebrated another double podium finish. The Porsche-Junior driver was also able to show off his abilities on Sunday. He fought his way from 10th place to 7th place, and then successfully defended this position to the end of the race.
With his first podium place and nine championship points, Klaus Bachler is extremely happy with his home Grand Prix: "I don't know what to say. It's an unbelievable feeling. Third at home, and that after such a difficult start to the season. The race was really great!"
René Rast views the second race of the weekend as damage limitation, following Saturday's time penalty: "It was the best I could do, reaching 3rd place after starting in 6th place. I'm very happy. It wasn't an easy race. I must say, everybody behaved fairly. Thank you for that. Again, it was a great result for the team, with 1st and 3rd places. Of course, it would have been nice if we hadn't received a penalty yesterday."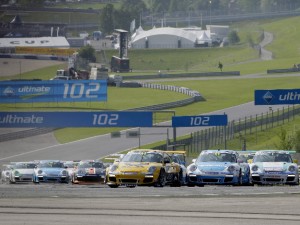 Sean Edwards maintains his second place in the drivers' championship. René slips to third place as a result of his penalty yesterday. The first race on Saturday was disappointing for the British driver, but the 'Team Deutsche Post by tolimit' driver has no intention of giving up: "We will carry on fighting for the championship!" With his first place on Sunday, he has turned his words into deeds.
Paul Schlotmann looks back at the races with some sceptisism: "Spielberg didn't turn out quite how we imagined it to on Saturday. We were handed a 30 second penalty due to the yellow flags and the best time in the yellow sector. Otherwise, the positions would have been as we wished. We couldn't do better than 1st and 3rd places on Sunday (. But we're very pleased with the result. Klaus did a very good job all weekend."
Further information, results and photos can be found at www.facebook.com/tolimit and at www.tolimit-motorsport.de.
On Mondays after race weekends, the news channel N24 broadcasts a 30 minute Carrera Cup programme at 6.30pm, with reports about the race series, the drivers, the highlights and stories about the people involved in the Carrera Cup.
The Racing Calendar:
1st July 2012 DTM Norisring
19th August 2012 DTM Nürburgring
26th August 2012 DTM Circuit Park Zandvoort, Netherlands
16th September 2012 DTM Oschersleben
21st October 2012 DTM Hockenheimring Baden-Württemberg
This entry was posted on Monday, June 11th, 2012 at 7:42 PM and is filed under
All
,
Porsche Cup
. You can follow any responses to this entry through the
RSS 2.0
feed. You can skip to the end and leave a response. Pinging is currently not allowed.