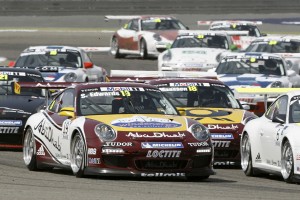 Sascha Maassen, Sean Edwards and Khaled Al Qubaisi from Abu Dhabi Team by tolimit finished their first two races in the Porsche Mobil 1 Supercup season 2010 on the positions 7, 8 and 20 as well as 9, 15 and 21.
It was the first liaison of a newly assembled team: Sascha Maassen, for a long time endurance racing specialist, Sean Edwards, sprint race talent and Khaled Al Qubaisi, who is on a mission to fulfil his dream of racing with his start in Porsche Mobil 1 Supercup. Supplemented by a new team of mechanics and engineers, a package that gives hope for a successful season.
Qualifying ended up with Sean Edwards on position 11th and 8th, Sascha Maassen on position 10th and12th and Khaled Al Qubaisi on position 25 and 24th.
Sean Edwards made a great start in race one and worked his way through the field, closely followed by his team mate Sascha Maassen. He got all the way upto 6th position and was closing in on reigning champion Jeroen Bleekemolen, but with only 2 laps to go his rear tyres had nothing left to give, leaving him helpless against the cars behind. "It was undrivable really, I had so much oversteer in the last two laps it was like a drift challenge! So I lost two places on the last lap unfortunately, but still got 8th." Commented Edwards after the race.
He was unlucky in the second race, when he got caught up in a crash between Siso Cunill and Jan Seyffarth, resulting in a spin which put himself at the end of the field in 24th. With some thrilling overtaking manoeuvres, he battled his way upto position 15 again! As Salman Al Khalifa is a guest starter, who finished the race in front of him, he will get the points for 14th position. "I wasn't able to keep myself out of the trouble, when Cunill and Seyffarth hit each other, but I had a good fight back through the field and would like to thank Team Abu Dhabi for all their hard work this weekend and we will be testing before Barcelona so we can be right up the front this time."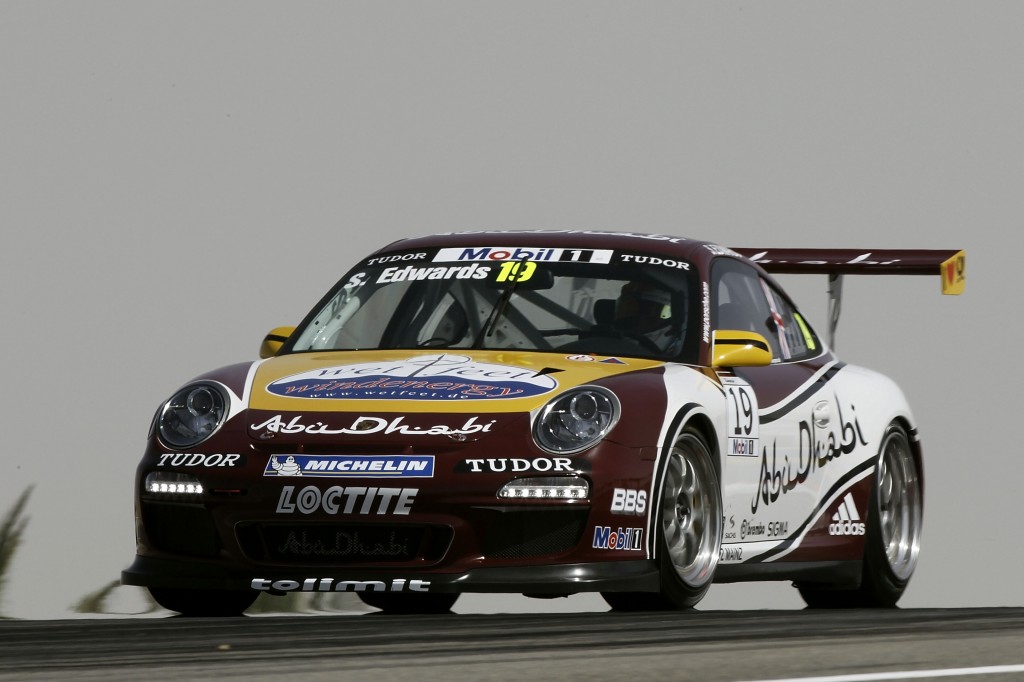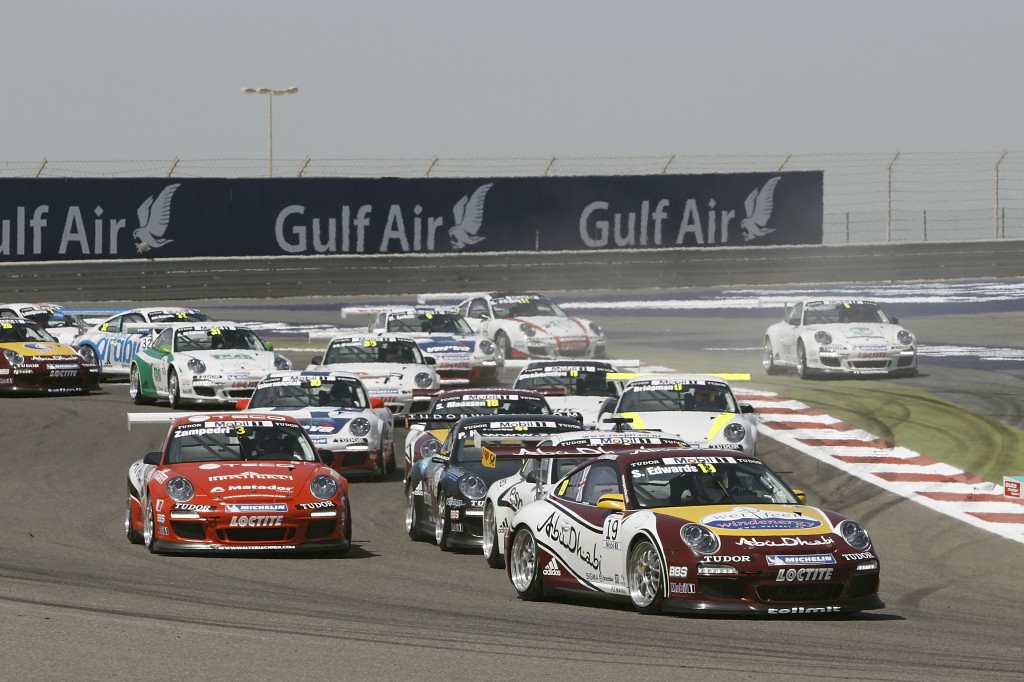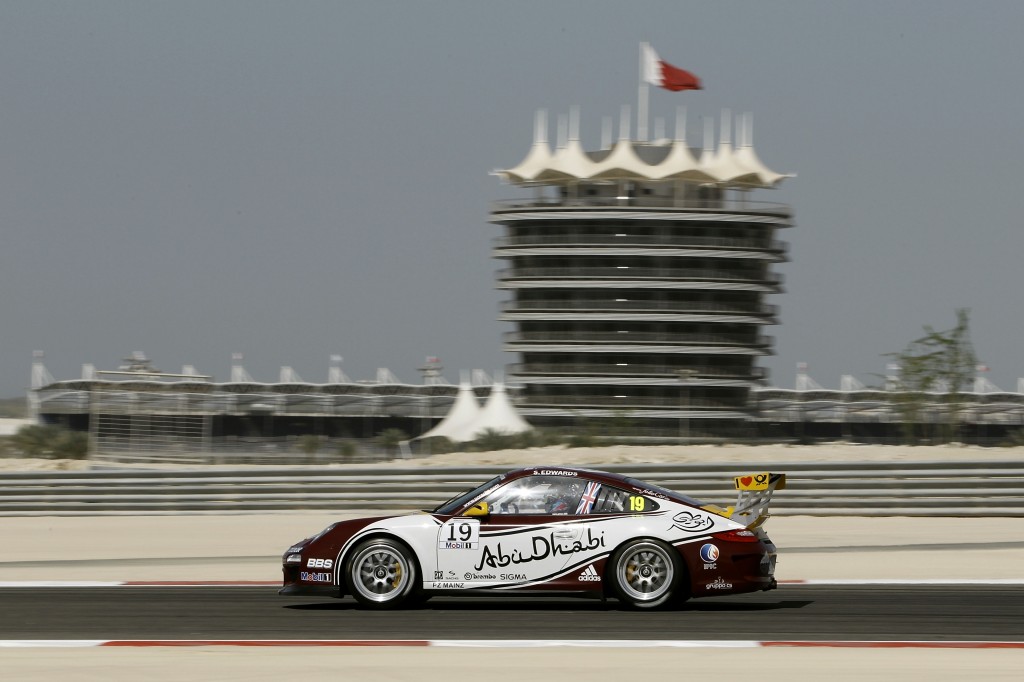 Sascha Maassen comments: "I am pretty satisfied with my 10th qualifying position. Eventually this is my first sprint race for some years." In the first race, the former Porsche works driver worked himself constantly through the field up to position 7. In the second race, he provided a lot of thrilling entertainment in his multiple fights for positions with Zampedri, Bridgman and Huisman. "I can't remember how often we overtook each other," the pilot says with a smile." For the spectators, it must have been a good show." In the end, this meant position 9 for the 40-year old. "That's ok at first. However, I am sure that I will get more used to the sprint format again and be able to push forward."
Khaled Al Qubaisi is also satisfied with his results: "My qualifying session was ok. In each of the races I was able to overtake some of my competitors at the start. I still need more experience, however, I am sure, that I am able to learn a lot this season, especially from my team mates Sascha und Sean."Position 20 and 21 leave the 35-year old race driver from Abu Dhabi content.
Team chef Michael Seifert assures: This was a good start for a newly assembled team. Now we have to keep up the good work, establish some routines and make the next step in the next race in Barcelona. I am sure that we can catch up to the teams of Lechner Racing, MRS and Konrad. We look forward to it".
Tolimit general manager Hans-Bernd Kamps is also satisfied: "The team has shown that it has the potential for being successful. I am pretty sure that we can better the results quite quickly".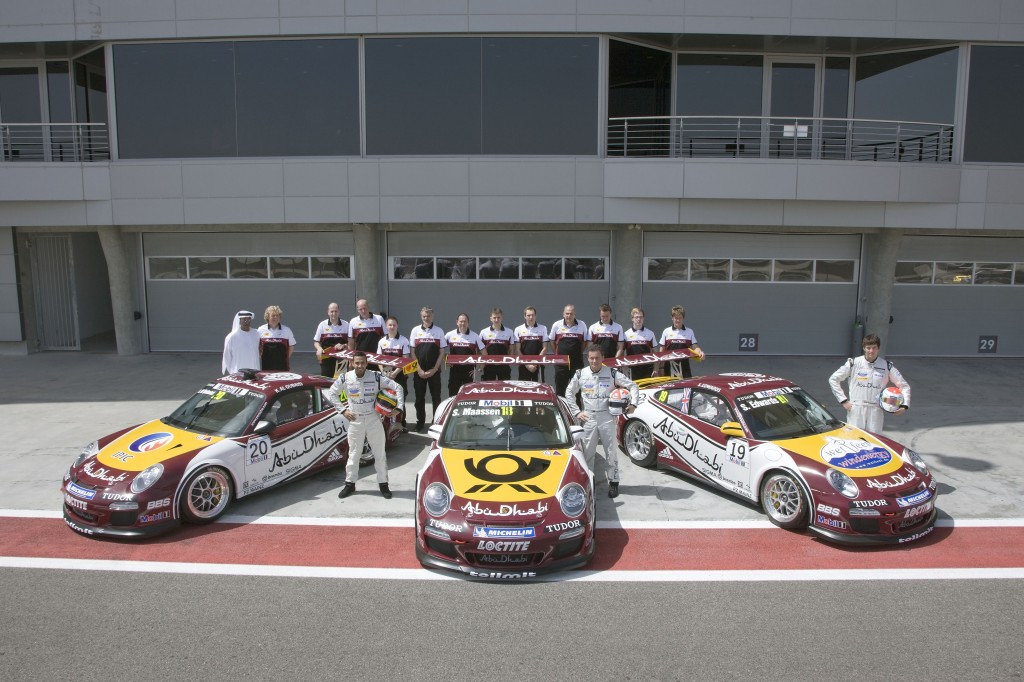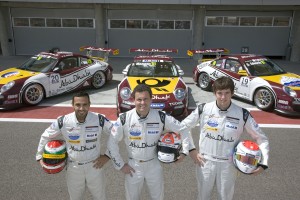 The team representing the Abu Dhabi Tourism Authority at the 2010 Porsche Mobil 1 Supercup announced its driver combination for 2010 during its annual Pit Stop Party. tolimit has chosen three drivers, creating a combination of experience, internationality and ambition.
Sean Edwards is an ambitious talent in motorsports and is particularly well known for his good performance in FIA GT2 /GT3 and in the Porsche one-make cup series.  The 23-year-old Brit was the 2006 champion in the FIA GT3 European Championship. In 2007, he completed his first 24-hour race in Spa, earning him third place on the podium along side Sascha Maassen, his new teammate.
He has already notched up two victories in Porsche one-make cups during his first season on the Porsche Mobil 1 Supercup 2008, and was named the "Best Rookie of 2008". The Brit, who currently resides in Monaco, discovered his love of GT sport when testing a Porsche GT racing car at Silverstone. "I am looking forward to the new season of the Porsche Mobil 1 Supercup. As part of Team Abu Dhabi, I have an experienced racing team behind me, so we are hoping for many successes on the track. I will give my best to try and win the championship. We haven't had time for any testing, so it's important to score some good points in Bahrain and we can then start to properly attack in Barcelona, but I will be trying all I can to get the best possible results in Bahrain.""
Sascha Maassen is returning to tolimit and the Porsche one-make cup after eight years' absence.  Following many successes in international GT and prototype sports, such as the LMP2 class championship in the American Le Mans Series 2006, he has been drawn back to the 911 cup. "I am already excited about the high level of competition in the Porsche Mobil 1 Supercup. Many good racing drivers are taking part and I hope I will be able to provide a few good surprises."
Khaled Al Qubaisi, a 35-year-old businessman from Abu Dhabi, has been supported and trained by tolimit Motorsport since the middle of the 2009 season. The friendly Arab took part in his first Porsche Mobil 1 Supercup race in 2009 in the inaugural race at Yas Marina Circuit in Abu Dhabi, wearing the colours of his country. He is focused on fulfilling his dream. Before he became involved with tolimit Motorsport, the fast car fan had never driven a racing car. To develop his talent by gaining experience, the father of four is currently lined up for the Porsche GT3 Cup Challenge Middle East, which will hold its final race on 1st April. "Although I have only ever driven fast street cars until the middle of last year, I have been able to learn a lot so far with the support of tolimit. It is important that I gain even more experience." The friendly Arab?s ambitions to become successful are modest: "If I pass the 107 percent hurdle in the qualifying round and then win a point in some of the races, I will be a very happy man".
The head of Team Abu Dhabi, Michael Seifert, is confident: "We will have a say in the battle for the podium places in the 2010 Porsche Mobil 1 Supercup. Sean is a true one-make cup specialist, Sascha has a wealth of experience and Khaled has developed in leaps and bounds over the past six months. I am looking forward to an exciting season."
Tolimit's managing director Hans-Bernd Kamps is proud: "We have put together a completely new team, consisting of Michael Seifert, Paul Schlotmann, Wolfgang Knobloch and an experienced team of technicians. I am very proud that this year, we were able to combine all of tolimit?s skills and potential in one team. With this package, we will certainly be able to start the season with confidence. Together with our partners, the Abu Dhabi Tourism Authority, Deutsche Post, wetfeet and IPIC, we are fully revved up for 2010."
Typical for tolimit: The team starts off the year with a combination of motorsport know-how and marketing skills. Professionalism across the board paired with enthusiasm for racing.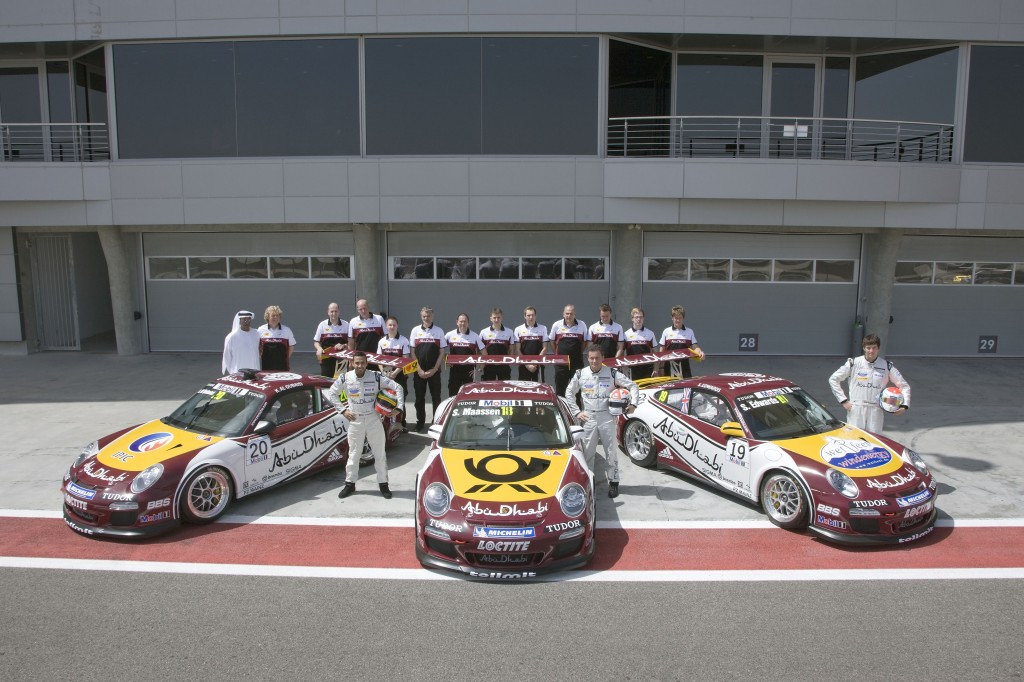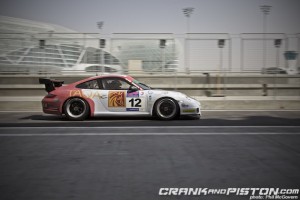 Sean was out in Abu Dhabi coaching the drivers from Alex Renner Motors when he was called in at the last minute to race alongside Khaled. He was happy to oblige and his first laps of the circuit were in qualifying, sticking the car in 3rd place on the grid behind the Porsche 997 Cup S of Rene Rast and the Covette GT3 of Karim Al Azhari!
Khaled took the start of the race and the power of the following Dodge Viper meant he lost a place, but settled into a nice rhythm in 4th place. A late call on the safety car created a panic in the pits, as everyone came in at once, with Khaled handing over to Sean. He came right out behind the 3rd place Viper, but the leading Cup S and second place Corvette were behind, it seemed as though the safety car had made a mistake and the first two cars had managed to lap the whole field in the confusion.
On the restart Sean immediately overtook the Viper for 3rd place and pulled away, but Rast was in chase and unbeknown to Sean, he was actually being lapped, not fighting for the lead of the race. Either way, he put up little defence to the much superior Cup S and settled in behind for the remainder of the race. The duo took a well deserved 3rd place in the end, although 2nd on the road ahead of the Corvette.
"It's a great track, the two cars ahead were much faster compared to our standard cup car, so we did the best we could and were happy with a podium. The team did a good job and Khaled too." Sean said shortly after the race.
Khaled commented "I am very happy with the result today, it moves me up in the championship and it was great to drive along side Sean, I will be having him back for a few more rounds this year!"
The next round of the championship is at Dubai on the 18 and 19th of March, where it looks like Khaled and Sean will once again be teammates.