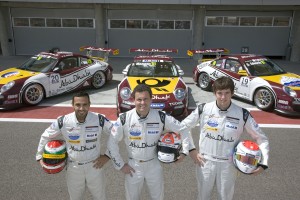 The team representing the Abu Dhabi Tourism Authority at the 2010 Porsche Mobil 1 Supercup announced its driver combination for 2010 during its annual Pit Stop Party. tolimit has chosen three drivers, creating a combination of experience, internationality and ambition.
Sean Edwards is an ambitious talent in motorsports and is particularly well known for his good performance in FIA GT2 /GT3 and in the Porsche one-make cup series.  The 23-year-old Brit was the 2006 champion in the FIA GT3 European Championship. In 2007, he completed his first 24-hour race in Spa, earning him third place on the podium along side Sascha Maassen, his new teammate.
He has already notched up two victories in Porsche one-make cups during his first season on the Porsche Mobil 1 Supercup 2008, and was named the "Best Rookie of 2008". The Brit, who currently resides in Monaco, discovered his love of GT sport when testing a Porsche GT racing car at Silverstone. "I am looking forward to the new season of the Porsche Mobil 1 Supercup. As part of Team Abu Dhabi, I have an experienced racing team behind me, so we are hoping for many successes on the track. I will give my best to try and win the championship. We haven't had time for any testing, so it's important to score some good points in Bahrain and we can then start to properly attack in Barcelona, but I will be trying all I can to get the best possible results in Bahrain.""
Sascha Maassen is returning to tolimit and the Porsche one-make cup after eight years' absence.  Following many successes in international GT and prototype sports, such as the LMP2 class championship in the American Le Mans Series 2006, he has been drawn back to the 911 cup. "I am already excited about the high level of competition in the Porsche Mobil 1 Supercup. Many good racing drivers are taking part and I hope I will be able to provide a few good surprises."
Khaled Al Qubaisi, a 35-year-old businessman from Abu Dhabi, has been supported and trained by tolimit Motorsport since the middle of the 2009 season. The friendly Arab took part in his first Porsche Mobil 1 Supercup race in 2009 in the inaugural race at Yas Marina Circuit in Abu Dhabi, wearing the colours of his country. He is focused on fulfilling his dream. Before he became involved with tolimit Motorsport, the fast car fan had never driven a racing car. To develop his talent by gaining experience, the father of four is currently lined up for the Porsche GT3 Cup Challenge Middle East, which will hold its final race on 1st April. "Although I have only ever driven fast street cars until the middle of last year, I have been able to learn a lot so far with the support of tolimit. It is important that I gain even more experience." The friendly Arab?s ambitions to become successful are modest: "If I pass the 107 percent hurdle in the qualifying round and then win a point in some of the races, I will be a very happy man".
The head of Team Abu Dhabi, Michael Seifert, is confident: "We will have a say in the battle for the podium places in the 2010 Porsche Mobil 1 Supercup. Sean is a true one-make cup specialist, Sascha has a wealth of experience and Khaled has developed in leaps and bounds over the past six months. I am looking forward to an exciting season."
Tolimit's managing director Hans-Bernd Kamps is proud: "We have put together a completely new team, consisting of Michael Seifert, Paul Schlotmann, Wolfgang Knobloch and an experienced team of technicians. I am very proud that this year, we were able to combine all of tolimit?s skills and potential in one team. With this package, we will certainly be able to start the season with confidence. Together with our partners, the Abu Dhabi Tourism Authority, Deutsche Post, wetfeet and IPIC, we are fully revved up for 2010."
Typical for tolimit: The team starts off the year with a combination of motorsport know-how and marketing skills. Professionalism across the board paired with enthusiasm for racing.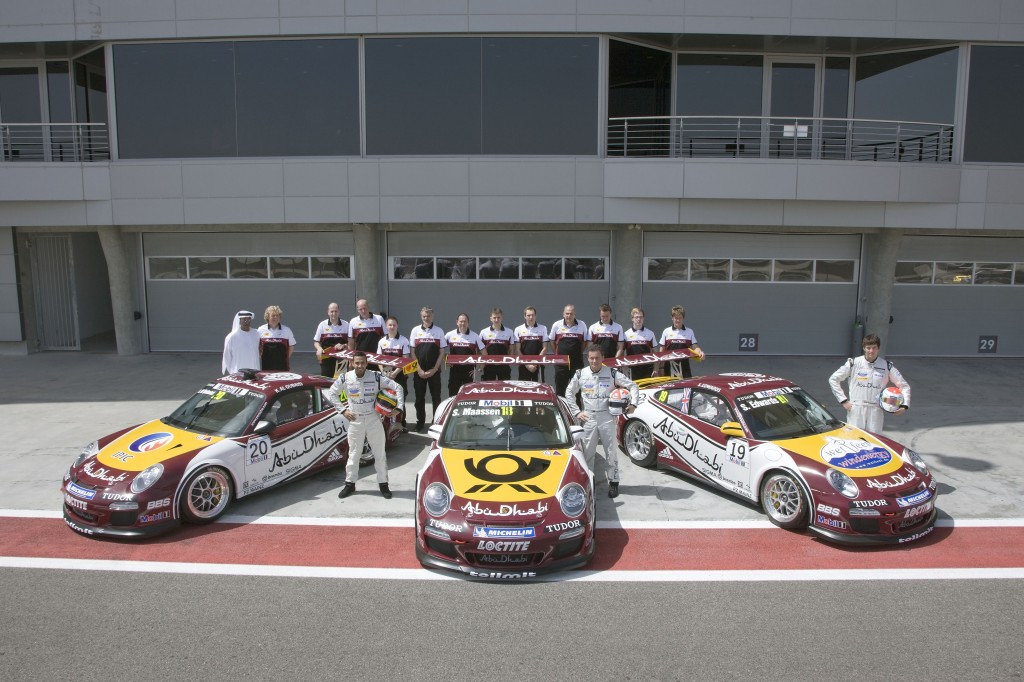 This entry was posted on Thursday, March 11th, 2010 at 9:38 PM and is filed under
All
,
Porsche Cup
. You can follow any responses to this entry through the
RSS 2.0
feed. You can skip to the end and leave a response. Pinging is currently not allowed.