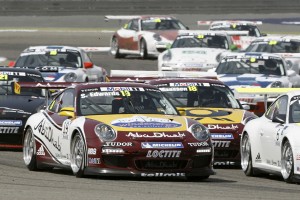 Sascha Maassen, Sean Edwards and Khaled Al Qubaisi from Abu Dhabi Team by tolimit finished their first two races in the Porsche Mobil 1 Supercup season 2010 on the positions 7, 8 and 20 as well as 9, 15 and 21.
It was the first liaison of a newly assembled team: Sascha Maassen, for a long time endurance racing specialist, Sean Edwards, sprint race talent and Khaled Al Qubaisi, who is on a mission to fulfil his dream of racing with his start in Porsche Mobil 1 Supercup. Supplemented by a new team of mechanics and engineers, a package that gives hope for a successful season.
Qualifying ended up with Sean Edwards on position 11th and 8th, Sascha Maassen on position 10th and12th and Khaled Al Qubaisi on position 25 and 24th.
Sean Edwards made a great start in race one and worked his way through the field, closely followed by his team mate Sascha Maassen. He got all the way upto 6th position and was closing in on reigning champion Jeroen Bleekemolen, but with only 2 laps to go his rear tyres had nothing left to give, leaving him helpless against the cars behind. "It was undrivable really, I had so much oversteer in the last two laps it was like a drift challenge! So I lost two places on the last lap unfortunately, but still got 8th." Commented Edwards after the race.
He was unlucky in the second race, when he got caught up in a crash between Siso Cunill and Jan Seyffarth, resulting in a spin which put himself at the end of the field in 24th. With some thrilling overtaking manoeuvres, he battled his way upto position 15 again! As Salman Al Khalifa is a guest starter, who finished the race in front of him, he will get the points for 14th position. "I wasn't able to keep myself out of the trouble, when Cunill and Seyffarth hit each other, but I had a good fight back through the field and would like to thank Team Abu Dhabi for all their hard work this weekend and we will be testing before Barcelona so we can be right up the front this time."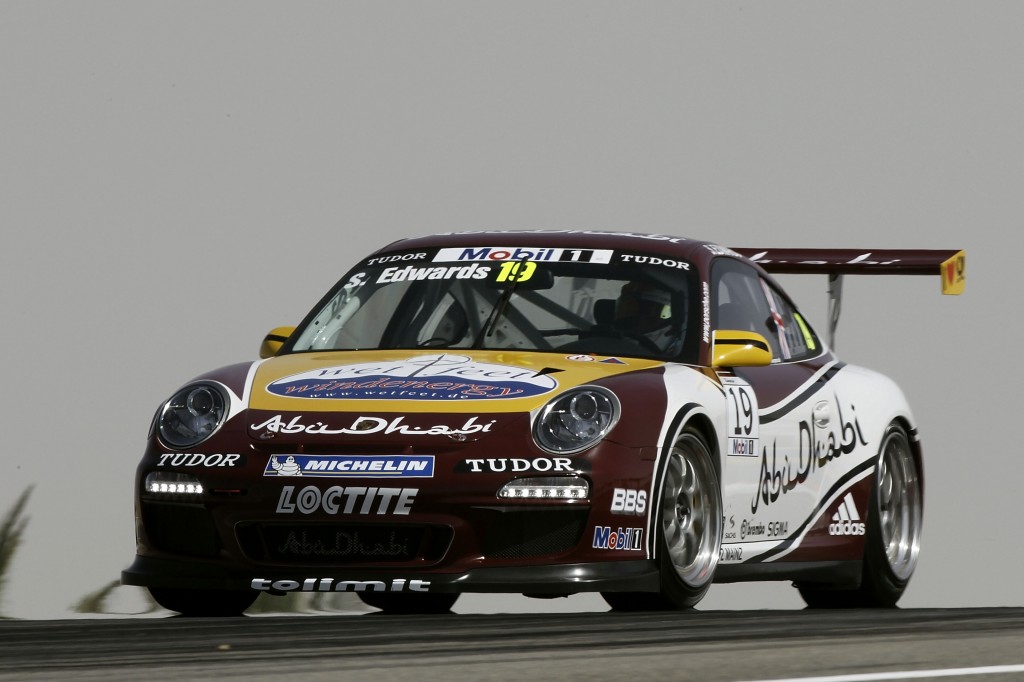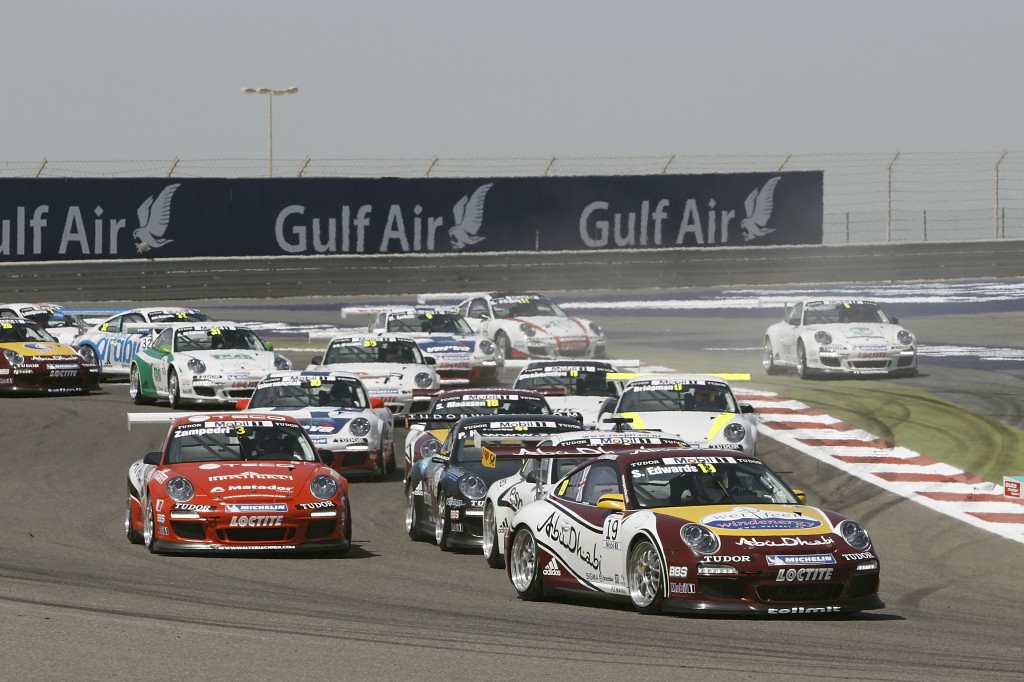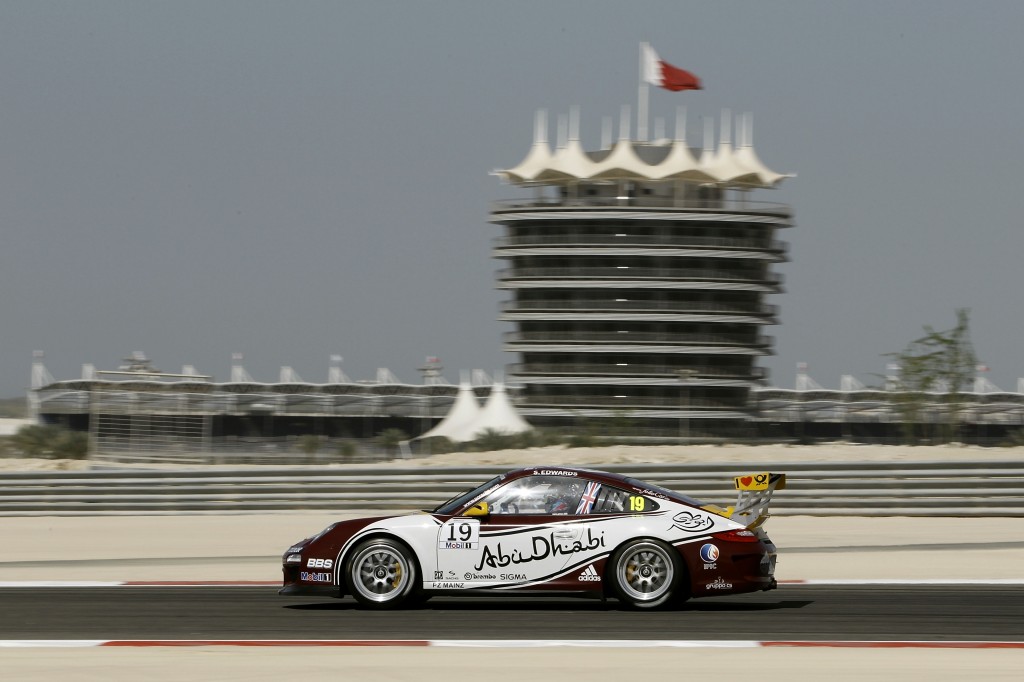 Sascha Maassen comments: "I am pretty satisfied with my 10th qualifying position. Eventually this is my first sprint race for some years." In the first race, the former Porsche works driver worked himself constantly through the field up to position 7. In the second race, he provided a lot of thrilling entertainment in his multiple fights for positions with Zampedri, Bridgman and Huisman. "I can't remember how often we overtook each other," the pilot says with a smile." For the spectators, it must have been a good show." In the end, this meant position 9 for the 40-year old. "That's ok at first. However, I am sure that I will get more used to the sprint format again and be able to push forward."
Khaled Al Qubaisi is also satisfied with his results: "My qualifying session was ok. In each of the races I was able to overtake some of my competitors at the start. I still need more experience, however, I am sure, that I am able to learn a lot this season, especially from my team mates Sascha und Sean."Position 20 and 21 leave the 35-year old race driver from Abu Dhabi content.
Team chef Michael Seifert assures: This was a good start for a newly assembled team. Now we have to keep up the good work, establish some routines and make the next step in the next race in Barcelona. I am sure that we can catch up to the teams of Lechner Racing, MRS and Konrad. We look forward to it".
Tolimit general manager Hans-Bernd Kamps is also satisfied: "The team has shown that it has the potential for being successful. I am pretty sure that we can better the results quite quickly".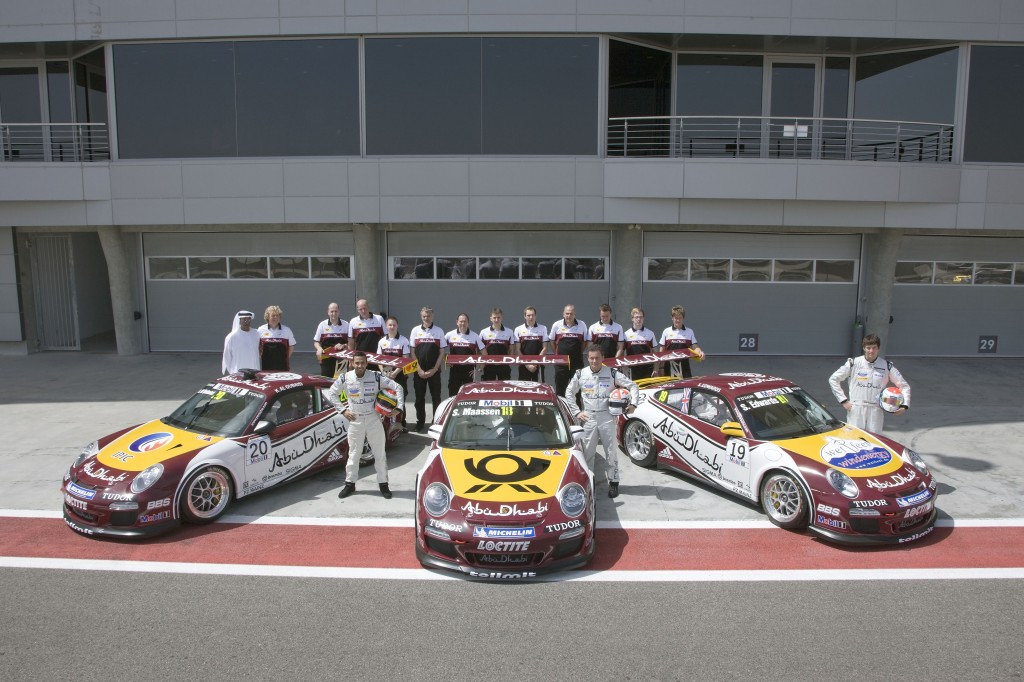 This entry was posted on Monday, March 15th, 2010 at 4:26 PM and is filed under
All
,
Porsche Cup
. You can follow any responses to this entry through the
RSS 2.0
feed. You can skip to the end and leave a response. Pinging is currently not allowed.