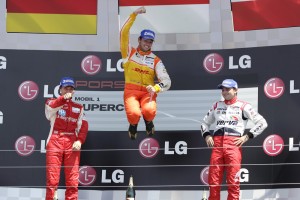 With a confident performance and a controlled victory from pole position, Sean Edwards showed once again in the race in Budapest who is the driver to beat this season. With three out of five victories in the bag in 2013, 'Team Allyouneed by Project 1' can now go into the forthcoming summer break safe in the knowledge that everything is running according to plan. The goals that the team from Lohne set themselves before the race in Hungary have virtually all been achieved. The goal for Edwards was to win, and for Johnston to achieve a top 15 finish.
After a start that resembled a launching rocket from 21st place, Sean Johnston was able to overtake six opponents and to join in the battle for 15th position and one important championship point. Right until the final lap it looked as if Johnston would finish in the top 15, but a mistake and consequent spin resulted in him falling back to finish in 18th position. "It's a shame, I was close to my goal. But the spin at the end meant that I didn't quite manage it. To start the race from 21st place wasn't what we were aiming for but my great start meant that I immediately got into the position I wanted to be in. Right up until the end, everything came together today. The car was unbelievably fast, the tyres held and I know that I can hold my own against the top drivers." Johnston knows who he has to thank: "The heat here in Hungary is brutal and I'm annoyed about the spin. Most of all for my boys and the team who, particularly in these temperatures, gave me a perfect car all weekend." Johnston's performance is particularly strong when we think that, with just one year's motorsport experience, he is competing so well against the field of experienced professional drivers. He is driving for the first time on nearly all the circuits in the racing calendar.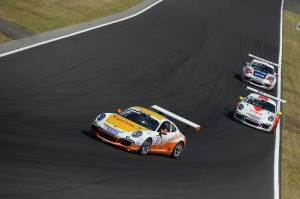 The highlight this weekend was again the perfect performance of championship favourite Sean Edwards; from pole position, through the fastest lap, to victory. After the fifth race in Hungary, Edwards has already bagged his third win and thereby extended his championship lead by a valuable 16 points. "It was a great feeling for me and Project 1 to win here. To crown the perfect qualifying with a win from pole position is huge. It may have seemed easy from the outside, but with these temperatures it was really hard to concentrate in the car. But despite that, I was able to control the whole race and even managed to drive the fastest lap, as demanded by my engineer, Kosta," said the delighted winner after the battle in Budapest in temperatures of over 30°C.
Straight after the start, Edwards had to defend himself for a short time against his pursuer and winner of last year's race, Christian Engelhart. The other championship contenders, Thiim and Ammermüller, finished the race in positions 8 and 14. "The result is great in terms of the championship and I hope we can repeat this performance in the remaining four races. Now all that's left for us to do here is jump into the pool," said Edwards.
Team boss Paul Schlotmann is happy with his team's performance: "We've put in a great performance overall. Even the accident with our team tent on Saturday, when a helicopter that was flying too low caused our tent to lift off, couldn't stop us. The way we dealt with the tyres in these extreme temperatures worked. The car held up and my team delivered a flawless performance. Even Sean Johnston's little set back doesn't weigh too heavily, because we know what he's capable of and we're much more interested in looking forward to what's to come," summed up the good-humoured boss of 'Team Allyouneed by Project 1'.
The Porsche Mobil 1 Supercup is now taking a four week break and will resume again with the next race at the Belgian Spa-Francorchamps on 28th August 2013.
News and background information about the race and about Project 1 can be found on the Project 1 website and on Facebook, and on the partner website, racecam.de.
Racing calendar – Porsche Mobil 1 Supercup:
Spa-Francorchamps 25.08.2013
Monza 08.09.2013
Abu Dhabi 03.11.2013
This entry was posted on Monday, July 29th, 2013 at 1:50 PM and is filed under
All
,
Porsche Cup
. You can follow any responses to this entry through the
RSS 2.0
feed. You can skip to the end and leave a response. Pinging is currently not allowed.