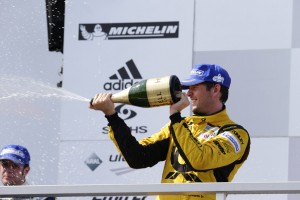 Looking at the faces of 'Team Deutsche Post by Project 1' in the team tent on Saturday evening, to say that they were disappointed would have been putting it mildly. In qualifying, it was a case of highs and lows for Project 1. On Saturday morning, Sean Johnston achieved his first top-10 starting position in both races and more than achieved his ambitious goals. Jeffrey Schmidt qualified for starting positions 14 and 16. In contrast, championship favourite and second in the current Porsche Carrera Cup leader board, Sean Edwards, had a terrible qualifying session. A material failure in the rear wheel suspension right at the start of qualifying meant that Edwards was unable to put in any fast lap times. He therefore started in positions 34 and 32, right at the back of the field. When the current championship leader then took two confident pole positions, things were looking bleak for Edwards' championship hopes.
The starting position for rookie Sean Johnston was, however, positive. Starting in position 10, his goal of finishing inside the top 10 and of putting in his best performance of the season was tantalisingly close. However, professional motorsport is full of hard knocks. A failure to observe a yellow flag led to a drive through penalty, leaving the 22 year old at the back of the field. "I thought that I slowed down in the sector. It's really annoying for me and the team". In the second race, however, he pulled out all the stops. With a brilliant race and fast lap times he took sixth place and valuable points for the rookie championship.
An overjoyed Johnston was grinning from ear to eat at the end of the race: "Wow, that was a great race. I'm over the moon and could finally show how fast I am. My team did an amazing job and the car was perfect. I've made a lot of work for my boys in the last few weeks and I'm so pleased to be able to deliver such a performance." With 6th place, Johnston grabs ten points for the rookie championship and moves up to 7th position.
The second junior, Jeffrey Schmidt, who had his season highlight to date at the Lausitzring with podium position 3, was not happy with his performance in Nürnberg: "After the Lausitzring, I was obviously hoping for more, but with starting positions 14 and 16 I had to revise my ambitions. With places 9 and 13 I've still gained a couple of important points for the junior championship. At the forthcoming races at the Nürburgring I know my way around better and I should again be much further forward."
Sean Edwards' head hung low after his failed qualifying session. But giving up just isn't something the British driver knows how to do. His performance in Saturday's race, starting in 33rd position and finishing in 10th place, was impressive enough. What Sean Edwards delivered on Sunday, however, was a masterpiece, to which the whole paddock took their hats off. After 34 turbulent laps on the 2.3km long circuit, Edwards found himself on the podium again. With absolutely the quickest car on the track, Edwards devoured his competitors and, with fantastic overtaking manoeuvres, produced real racing and exciting motorsport.
The other drivers really didn't stand a chance, and it's possible he would also have overtaken the two drivers in front of him had the race lasted another couple of laps. Edwards himself was delighted with his performance: "I'm really pleased with today. After qualifying I had nothing to lose and that was my strategy. The first race was good but the second was fantastic. Thanks to my team and my engineer, who gave me a mega-fast car." The damage to his championship hopes was also a lot less than initially feared, as his competitor Kévin Estre finished the second race without any points. Currently, Edwards is in position 3 in the championship, 17 points behind the leader.
The Porsche Carrera Cup is now beginning a 4 week summer break. The next two races will be fought by 'Team Deutsche Post by Project 1' on 17th and 18th August at the Nürburgring, the location of the championship race in the 24h race.
News and background information about the race and about Project 1 can be found on the website and on Facebook.
Racing calendar – Porsche Carrera Cup Germany:
Nürburgring 18.08.2013
Oschersleben 15.09.2013
Zandvoort 29.09.2013
Hockenheim II 20.10.2013
This entry was posted on Tuesday, July 16th, 2013 at 1:45 PM and is filed under
All
,
Porsche Cup
. You can follow any responses to this entry through the
RSS 2.0
feed. You can skip to the end and leave a response. Pinging is currently not allowed.