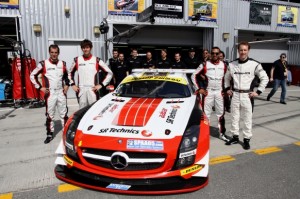 Following from the success of 2012, Team Abu Dhabi by Black Falcon have confirmed their two-car entry to double their chances of defending their Dubai 24 hour title.
2012 saw a very happy team take first place at the chequered flag in the Mercedes SLS AMG GT3. This was a great achievement for the whole team bringing many firsts, including the first win for a local UAE resident. Khaled Al Qubaisi will return to this two-car line up to fight to make it a double. For AMG it was the first win in a 24-hour event with their first GT3 car, the mighty SLS and even more poignantly the win was the first in any 24-hour event since 1989 for the Mercedes brand! Khaled will return to defend his title along with his world-class teammates Jeroen Bleekemolen and Sean Edwards, the driver line up being completed by 5 times DTM champion Bernd Schneider. A prospect the whole team is very excited by. As yet the full driver line up on the second car is to be confirmed.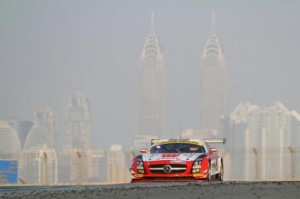 It has been a turbulent year for the Black Falcon team and for the SLS in all competitions, though the car continues to prove its strength and reliability as well as its balance and pace. It remains the car to beat and a benchmark for GT3 racing.
After a strong race program 2012 beginning with 24h Dubai, continuing with 12h Bathurst, followed by several VLN races, the Blancpain Endurance Series and 24h Nürburgring and Spa, Team Black Falcon is confident for the coming motorsport season 2013.
Team manager Sean Paul Breslin comments:
"2013 sees a different race in Dubai than previous years. Teams will have the opportunity to run without time restrictions, though if they choose this route, there are other penalties such as weight and a reduced fuel range to think of. It is going to be interesting and we are very confident to have one of the strongest teams in the field."