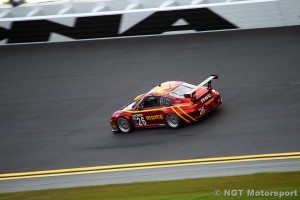 The MOMO NGT Motorsport racing team will return to the prestigious Rolex 24 at Daytona race, January 26-27, 2013, with a familiar line-up of drivers.
Henrique Cisneros, the 2010 and 2011 IMSA Porsche GT3 Cup Challenge champion, returns behind the wheel of the No. 30 MOMO-sponsored Porsche 911 GT3 race car. Also returning to the MOMO team for 2013 is Sean Edwards. Edwards won the 2012 running of the 24 Hours of Dubai, is a former Supercup race driver since 2008 and co-drove with Cisneros at the Rolex 24 last season. The duo, paired with Carlos Kauffman and Nick Tandy, finished 18th in class and 29th overall in the 2012 running of the Rolex 24.
Cisneros and Edwards will be joined this year by 22-year-old Kuba Giermaziak, a three-year Porsche Supercar pilot who previously partnered with Cisneros in the 2012 ALMS Petit Le Mans race for a GTC class victory. The fourth driver for the 51st Annual Rolex 24 at Daytona is Porsche factory driver Patrick Pilet. The young Frenchman has been a Porsche factory pilot since 2008 and was the 2007 Carrera Cup France champion, as well as the 2010 24 Hours of Dubai winner.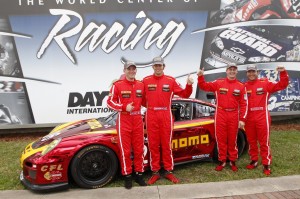 The MOMO NGT Motorsport team previewed a demonstration to their commitment to the MOMO brand and its heritage at last year's 50th annual running of the Rolex 24 at Daytona with a press announcement and unveiling of the car in a rather familiar red, yellow and black livery that evoked memories of its founder, Gianpiero Moretti's glory days of racing. Look for a similar livery for the car for this year's twice-around-the-clock running of the historic race.
"We are proud to be returning to the Daytona 24 Hours this year and with an exciting driver line-up," said MOMO co-owner and team driver Henrique Cisneros. "We had some successes last season, including our class victory at Petit Le Mans and numerous podium finishes in the American Le Mans Series. We plan to build on that in 2013 and no better place to start than Daytona."
"We are looking forward to the upcoming 24 Hours of Daytona," said Wahab. "We are proud to have MOMO again for 2013 and are thankful for Porsche Motorsport's support. I'm very confident for a posi tive achievement this year as we have some of the best Porsche drivers on our team representing successes from around the world."
The No. 30 MOMO NGT Motorsport team will be present at the Roar Before the 24 Daytona Test Days on January 4-6, 2013. Drivers Sean Edwards and Kuba Giermaziak will be the only drivers represented at The Roar testing.