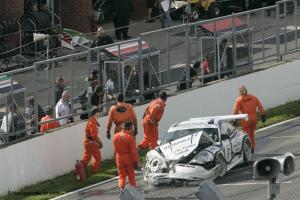 The 2nd race ended in disaster for Edwards and Warburton! They were leading by almost 17 seconds when a safty car came out, andjust before the green flag was given the GT2 Mosler of Phil Keen smashed into the rear of the RPM Porsch, which Edwrads was driving at the time. This cost them the Tag Heur 250 overall win and almost 60,000 pounds of damage. Edwards said "It's stupid people like this that make motorsport dangerous, Keen is an utter idiot!"
Sean Edwards Race Report
This time we started 5th, so it was going to be easyier to get to the front, Steve started again and he got us to 4th before the pitstop.
The team then thought through a stratergy to get past some cars and it worked superbly! we went form 4th to 1st in the pitstop, it was amazing.
It was then left to me to push as hard as I could to gain over 15 second on the Kane Porsche to try and win the overall aggerate race. It was all going well and we were pulling almost 2 seconds a lap on the struggling Kane. I was just trying to keep up with Richard Westbrook who was leading the race but a lap down on aggerate. But then a few cars went off which brought out the safty car.
On the restart even before we got to the line the Mosler of Phil Keen smashed into me from behind! This picked my rear wheels off the ground and at that point I had no control, what was worse is that he did this 3 times before turning left and smashing me into the pit wall at 130mph!!!
He is a great danger to the other drivers, i dont know what the hell he was thinking. He seems to be thick in the head or somthing, this has made us loose the Tag 250 and cost us about 60,000 pounds of damage.
This brought a great weekend to an abrupt end, the team did great and both me and steve did a great job, it's a shame that Keen has ruined this weekend for us. We can only look forward to Silverstone International now and try to win there.