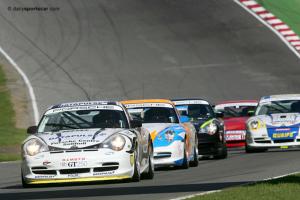 The first race of the weekend was looking like a bit of a task for the Edwards/Warburton duo, but the two drivers and team had great strategy and went from 10th on the grid to finish 2nd in GT3! This was a great result but they have too make up a 15 second gap in the race tomorrow to Kane's Porsche if they wanted to take the over all aggregate win of the Tag Heur 250. It's going to be a huge task but they are confident that they can manage it.
Steve started the race and he really had to get past a lot of people if we were going to get any sort of result as it was only a 45 minute race. He started 10th and made some great overtaking maneuvers to get to 6th place before the pit stops. Then the team calculated a strategy that would get us past another 2 cars during the pit stops, it worked!
When I got in I was in 4th place and really had to push hard to catch 2nd and 3rd. In the end i caught and got passed both cars and found myself in 2nd place. 1st place was over 25 seconds up the road with 10 minutes to go, I pushed as hard as i could and got the gap down to 15 seconds by then end. This was a great job by all of us here at RPM, both drivers and the team did a mega job and we came through the field from 10th to 2nd.
Now we have to look to tomorrows race to try to win by over 15 seconds. It's not going to be easy, but I think we can manage it with some luck.