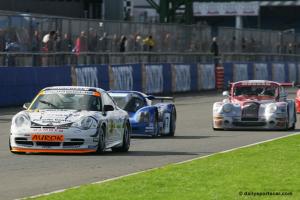 The 2nd race was at 1.30 on Sunday, it was bone dry and Warburton started the race. It was going to be hard for the duo to make their way up the field after the bad qualifying. The team had a good strategy for the race, but it depended on how fast Warburton could get passed everyone! Both cars had been repaired from last night's incident, as the team worked all through the night, they did a great job!
Steve started the race and did a good job getting from 8th to 6th before handing over to me, I jumped in and 1st gear would not select, eventually after a while I pulled away in 2nd after loosing numerous amount of seconds. I then started pushing really hard, trying too make the positions back up.
I gained rapidly and picked of the positions one by one, I made it up to 4th with 10 min to go. Disaster almost struck as the Vauxhall Monaro was stationary on the apex of beckets and I had to take avoiding action at 150mph onto the grass! Luckily I escaped with only lost time.
I was pushing as hard as I could go in the last 10 min and made it all the way up to 2nd in the INV class! It was a good results considering where we had started and to be honest I was glad to finish the race after being taken out of the last two!
We are looking too next season now and there are several different options open at the moment, but we will have too see how it goes over the winter. We will try to raise the budget to do a full season of GT racing and go out with the sole aim of winning the championship.