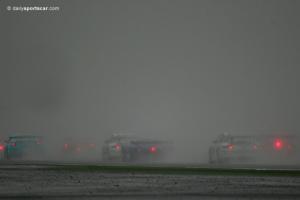 The first race of the day was at 4.30 and like the team had predicted it stared pissing it down with rain. Edwards was starting the race and he had never driven a Porsche in the wet! The team sounded confident of their speed in the wet and it was up to the drivers to stay on the track and get a good result! This later proved hard as both cars got taken out. Edwards's team-mate Al Mortimer got hit by a Ferrari and both cars smashed into Edwards!
We started 3rd on the grid and it was pissing it down with rain! On the start I overtook the Ashburn Porsche for 2nd place, and then later on the lap I got past the Quaife Porsche to get into the lead.
I then lead for the next 4 laps with Al Mortimer (my team-mate) right behind me. Then he got overtaken by a Ferrari, I was struggling for grip and just trying not to go off, which was very close sometimes! I kept my head and stayed in lead, despite the best efforts of the Ferrari to get past.
Then on lap 6 going down to the farm hairpin Al Mortimer went for a big lunge down the inside of the Ferrari of Smyth, but Smyth cut across him and they both made contact. I was turning into the apex of Farm hairpin and all of a sudden both cars smashed into me! They had both lost control and taken all 3 of us out of the race. All 3 of us limped back to the pits into immediate retirement.
I was really annoyed as this was the 2nd time in 2 weeks that I had been taken out of the lead! Anyway I am looking forward to tomorrow's race, but the team have a lot of work to get both cars ready for tomorrow