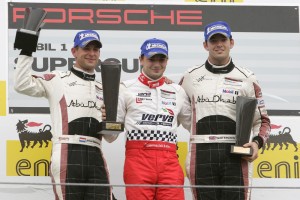 With a double podium finish for the drivers Jeroen Bleekemolen and Sean Edwards on positions 2 and 3 respectively, 'Team Abu Dhabi by tolimit' finishes as the best team at the Hungaroring and impressively fights back the lead in the driver standings for Sean Edwards. The first Top 10 position for Abu Dhabi representative Khaled Al Qubaisi completes the weekend for the Lohne-based team.
Again a race under mixed weather conditions, the Porsche Mobil 1 Supercup round at the Hungaroring was shaped by a lot of position changes. Having started from position 7, Jeroen Bleekemolen was the one to profit the most out of it: "It was a very good race. At first I los t some positions at the start, as I didn't have much grip, but soon after it all worked out well and I had some great overtaking manoeuvres. Unfortunately, we weren't able to take the win, but despite of this it was a perfect weekend for me and the team."
Team mate Sean Edwards would have liked to take the two extra points for the pole position. However, having started the race from 2nd place and finishing 3rd, he impressively fought back the lead in the driver standings: "It was a crazy and action-packed race, but it was great fun. For some reason, I didn't have the pace and couldn't find enough traction in the corners, so I am lucky to finish on the podium. I just wanted to keep my competitors behind and collect as many points as possible, as I didn't know that Rast was out. In the end, Jeroen caught me, we had a nice battle, but I didn't fight him too much. It's great to finally have two Abu Dhabi drivers on the podium."
The first ever sports car racer from Abu Dhabi, Khaled Al Qubaisi, experienced an almost perfect weekend, too and achieved his first top 10 position despite of having started from 18th place: "I was hoping for rain and my wish came true. Today's conditions suited very well for me. Everyone started on rain tyres. I had a good pace and the tyres were good, too. 10th place is my best result ever, so I am really very happy."
tolimit head of motorsport and Supercup team manager Michael Seifert: "It was an almost ideal race weekend for us. We have not only been able to achieve two podium positions, but also fought back the lead in the driver standings while our biggest competitors seemed to have some problems. We will continue to build on this performance after the summer break."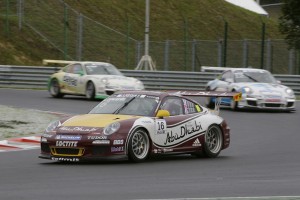 tolimit managing director Hans-Bernd Kamps: "A great success for us to be the best team at the Hungaroring! It's a great feeling to harvest the fruits of our labour step by step. Congratulations to the team from Timo Rumpfkeil for a well-deserved race win! Now I am looking forward to the Carrera Cup race at the Nürburgring this coming weekend and the next Supercup round in Spa. And I can promise our friends and partners, that we will continue to work hard for the championship."
Eurosport will show a summary of the race on July 31, at 5.30 p. m. in the frame of their "Motorsports Weekend Magazin". Results and photos can also be found on www.facebook.com/tolimit or on www.tolimit-motorsport.de.
The race dates:
August 28, Spa-Francorchamps, Belgium
September 11, Monza, Italy
November 12/13, Abu Dhabi
This entry was posted on Monday, August 1st, 2011 at 4:00 PM and is filed under
All
,
Porsche Cup
. You can follow any responses to this entry through the
RSS 2.0
feed. You can skip to the end and leave a response. Pinging is currently not allowed.