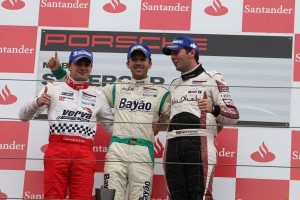 With the positions 3, 6 and 18 respectively, for its drivers Sean Edwards, Jeroen Bleekemolen and Khaled Al Qubaisi, 'Team Abu Dhabi by tolimit' stays tuned in the fight for the team and driver championship at the 6th round of the Porsche Mobil 1 Supercup series at the Nürburgring. In the 200th race of the championship, rain specialist Sean Edwards only started from 7th place, however, scored another podium in a great catch-up race. In the driver championship, he ranks 2nd with 90 points and within reach of the leader René Rast.
Jeroen Bleekemolen starts from position 8, however, catches up one position, too. Being one of only two race drivers who managed to be on every podium of one Supercup season, he therefore scores 10 points and continues to rank 5th. Khaled Al Qubaisi once again shows a great start in the race and competes on position 9 for some time. However, being started on rain tyres, he falls back to position 18 on the drying track during the race.
Sean Edwards: "Starting 7th and finishing 3rd is obviously a great result. Our car was fast especially in the wet. I didn't have a perfect start, but was able to catch up some positions in the first lap. Unfortunately, I lost some time in my catch-up race, but am happy with finishing 3rd. I didn't fully attack in the end, as I didn't want to risk too much in the fight for the title. We will be coming back strongly in the next races, so I am already looking forward to it."
Jeroen Bleekemolen: "A good race with lots of overtaking and fights. I had a great duel with Patrick Huisman and I am pretty happy to finish in front of him, as he was the fastest on the track. Not a bad result."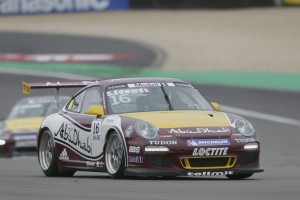 Khaled Al Qubaisi: "Obviously, we took the gamble today and I started on rain tyres. It worked out well in the first two laps and I showed up in the mid field. Unfortunately, it didn't stay wet so I wasn't able to keep up in the end. But I had a lot of fun and it was worth taking the risk."
tolimit head of motorsport and Supercup team manager Michael Seifert: "This race weekend, we once again showed that we are fighters. Although qualifying wasn't ideal, we never gave up. Sean showed a great catch-up race and still fights for the title. Jeroen also never gave in and Khaled obviously pushed his luck, but wasn't lucky enough to gain the rewards. Nevertheless, he showed that he is able to show up in the mid field. In the team standings, we are hot on the heels of the leader. We simply make the best out of every situation."
tolimit managing director Hans-Bernd Kamps: "I am extremely proud that we were once again able to show our great fighting spirit, especially as it was in front of many of our business partners and friend. We will stay tuned and focused to realize our target to become champions. Thanks to our partners and sponsors for their support."
Eurosport will show a summary of the race on July 24 at 11.00 p. m. in the frame of their "Motorsports Weekend Magazin".
The race dates:
July 31, Budapest, Hungary
August 28, Spa-Francorchamps, Belgium
September 11, Monza, Italy
This entry was posted on Monday, July 25th, 2011 at 4:32 PM and is filed under
All
,
Porsche Cup
. You can follow any responses to this entry through the
RSS 2.0
feed. You can skip to the end and leave a response. Pinging is currently not allowed.