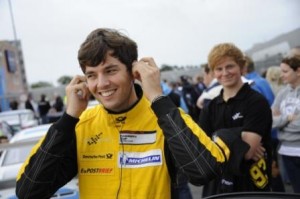 On April 27th, the 22nd Porsche Carrera Cup will start with a new regulation at the legendary Hockenheimring. In the course of the DTM, the teams of the fastest one-make-championship will race twice this weekend. The first race takes place on Saturday afternoon, the second on Sunday morning.
tolimit motorsport has some changes in 2012 as well. Next to the runner up Sean Edwards, the Porsche-Junior Klaus Bachler will commence his first season in a Porsche. The third driver is René Rast, the twofold champion of the Porsche Mobil 1 Supercup.
René Rast is full of expectation for the new season: "I'm really happy to be in the Porsche Carrera Cup with tolimit motorsport this year. In my opinion, tolimit is one of the best and most professional teams of German motorsports. Even back in my time as a Speed Academy candidate, I felt taken care of and in good hands. I'm confidently looking at the first weekend, because at the test in Hockenheim I realized that everyone is truly motivated and they can't wait to start the season. I'm glad to drive a "Deutsche Post car" for the first time this Friday."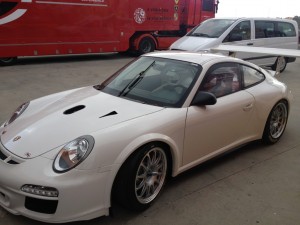 Sean Edwards affiliates: "It's great to be back with 'Team Deutsche Post by tolimit' again this season. Our goal is clear, to win the teams championship again and to be one place higher in the drivers. We were very unlucky not to win it last year, but I am confident we can fight for it this year. It will be a tougher season, with more competition and two races a weekend, so I am looking forward to the challenge."
Klaus Bachler is prepared: "I can't wait for the weekend to begin. At the moment I have no idea where I'm standing and how far away I am from the top. But it's obvious, that I got better from test to test with my 'Team Deutsche Post by tolimit'. The performance density at the Porsche Carrera Cup Germany is really high, and for a young driver this is a unique chance to compete with such established drivers on a race track."
Paul Schlotmann has clear goals: "We start with a high motivated team and three drivers this year. The goals are seeded: Defending the team-championship, achieving the drivers-championship and Klaus as the best Rookie. But let's start with the first grid on Saturday and Sunday."
There's more information and photos on www.facebook.com/tolimit and on www.tolimit-motorsport.de.
There will be a live broadcast of the races on Saturday and Sunday on www.porsche.com as well. The news channel N24 televises a 30-minute Porsche Carrera Cup magazine at 6.30 pm every Monday after the races. It includes reports of the race series, the members, highlights and stories about the people of the Carrera Cup.
The race-dates:
06th May 2012: DTM Eurospeedway Lausitzring
18th May 2012: ADAC Zurich 24h Rennen Nürburgring
03rd June 2012: DTM Re-Bull-Ring Spielberg, Austria
01st July 2012: DTM Norisring
19th August 2012: DTM Nürburgring
26nd August 2012: DTM Circuit Park Zandvoort, Netherlands
16th September 2012: DTM Oschersleben
21st October 2012: DTM Hockenheimring
This entry was posted on Wednesday, April 25th, 2012 at 1:34 PM and is filed under
All
,
Porsche Cup
. You can follow any responses to this entry through the
RSS 2.0
feed. You can skip to the end and leave a response. Pinging is currently not allowed.