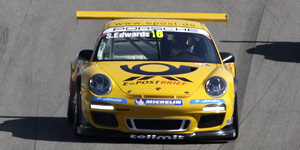 The first race weekend of the Porsche Carrera Cup Germany has finished. The high powered performance of the drivers at the Hockenheimring gave spectators plenty to see at the Saturday and Sunday races. The `Deutsche Post by tolimit` Team started the season with two best times in qualifying, courtesy of Sean Edwards. In Saturday's race, tyre damage forced the British driver to retire on the 5th lap. On the same lap, technical problems forced Klaus Bachler to pit. He managed to continue the race and finished in 17th place. René Rast took this season's first Porsche Carrera Cup victory.
The second race on Sunday was dominated by yellow Porches. Sean defended his pole position throughout the race. His teammate René Rast took third place during the race and crossed the line in that position. Klaus Bachler finished his second race in a Porsche in 13th place. The start of the season in Hockenheim has therefore seen The `Deutsche Post by tolimit` Team celebrating two podium places and two race victories.
Paul Schlotmann concluded: "We set ourselves high targets and we've achieved a lot. The team has performed very well. The drivers are happy and we haven't got any damage to the cars. We're leading in both the Drivers' and the Constructors' Championships. All in all, a successful weekend."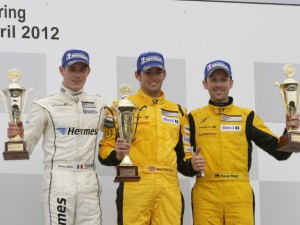 Sean Edwards is delighted with his win in the second race: "I started well today and was able to defend first place. It was a hard race. I had to fight for 18 laps because the pressure behind me was very strong. Thank you to the whole team. It was a successful weekend, with two pole positions, 2 wins and a lot of points."
René Rast is happy with the first weekend: "It was a great result for the team, with positions 1 and 3. It was the maximum that I could achieve from position 4. The team did a great job and I had a great debut. I'm leading the Driviers' Championship and we're leading the Constructors' Championship. It couldn't really have gone any better."
Klaus Bachler looked back at his first race in the Porsche Carrera Cup: "I started in position 12 today and lost a place because of a braking mistake. In terms of speed, it was worse today than yesterday. We need to analyse it and make sure that we do better. I've learnt a lot and gained a lot of experience."
Further information, results and photos can be found at www.facebook.com/tolimit and at www.tolimit-motorsport.de.
On Mondays after race weekends, the news channel N24 broadcasts a 30 minute Carrera Cup programme at 6.30pm, with reports about the race series, the drivers, the highlights and stories about the people involved in the Carrera Cup.
The Racing Calendar:
6th May 2012 DTM EuroSpeedway Lausitz
18th May 2012 ADAC Zurich 24h Race Nürburgring
3rd June 2012 DTM Red-Bull-Ring Spielberg, Austria
1st July 2012 DTM Norisring
19th August 2012 DTM Nürburgring
26th August 2012 DTM Circuit Park Zandvoort, Netherlands
16th September 2012 DTM Oschersleben
21st October 2012 DTM Hockenheimring Baden-Württemberg
This entry was posted on Tuesday, May 1st, 2012 at 6:55 PM and is filed under
All
,
Porsche Cup
. You can follow any responses to this entry through the
RSS 2.0
feed. You can skip to the end and leave a response. Pinging is currently not allowed.