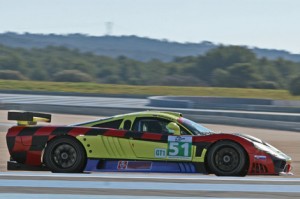 Porsche Supercup racewinner Sean Edwards is set to become the latest driver to join the 2009 Le Mans Series grid. The 22 year old from Henley-On-Thames, United Kingdom will drive a ARC Bratislava-Kaneko prepared Saleen S7R in the LM GT1 category at the 1000 Km of Catalunya on April 5th.
The British driver is not unfamiliar with the Saleen S7R. In 2008 Edwards joined ARC Bratislava for the first two rounds of the FIA GT Championship. Alongside team owner Miro Konopka Edwards nearly secured an overall pole position at the opening race at the Silverstone circuit after treacherous weather conditions hampered the qualifying session. Unfortunately the team retired in both races that Edwards raced.
ARC Bratislava-Kaneko Racing will enter one Saleen S7R in the Le Mans Series this year. At the Le Mans Series official test days at the Circuit Paul Ricard HTTT the Saleen was third fastest in the LM GT1 class, its best time in two days just over a second slower than the fastest time set by the Luc Alphand Aventures Corvette C6.R.
"I am grateful to Miro for the opportunity to drive the Saleen again and in a new championship for myself. The experience of racing with LMP's for the first time will be a valuable one for me and I look forward to the challenge," says Edwards.
"The team and I have high hopes as usual, especially after the two races we did in the FIA GT, claiming two pole positions and leading both races in our class until we hit technical problems unfortunately. As a team I am confident we will work well together and we are aiming to be on the podium in the GT1 class. The most important aspect of a 1000km race is to keep out of trouble, especially when being lapped by the faster cars and as long as we can do that and have no technical gremlins, I am confident we will be on the podium."
The full line-up of the Saleen for the Barcelona round of the Le Mans Series is Sean Edwards/Miro Konopka/Paul Daniels.