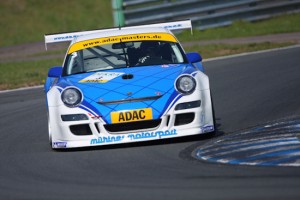 A last minute call to Sean Edwards has put him in the Porsche 997 Cup S seat alongside Oliver Morley for this weekend's two FIA GT3 races at his home track of Silverstone.
"I got the call today from my manager Phil Hindley to see if I was available and although very last minute I am looking forward to working with the team and Oliver for the first time. The last time I raced GT3 was back in 2006 and we won, so I expect to pick up where I left off and do a good job this weekend as I am sure the Porsche is more competitive now then it was back then. The weather looks suspect for this weekend too and these cars are superb to drive in the wet and I know the track very well, which brought me victory last year in the British GP Porsche Supercup race!" commented Sean.
So it looks like a strong pairing for the first round of FIA GT3 this weekend in the Muhlner Porsche and I suspect we will see a good result from the pair.