Sean met the 1992 world champion Nigel Mansell in a press conference today at Silverstone. "It is really weird to be racing against one of my F1 heroes from when I was young, as I was only 6 years old when he won his F1 world championship!" commented Sean.
"He is a really nice guy to be honest and is very relaxed about racing in the FIA GT championship this weekend. I wish him every success, but I will obviously be aiming to beat him."
Nigel Mansell will be racing the number 63 Scuderia Ecosse Ferrari in GT2, as a direct competitor of Sean.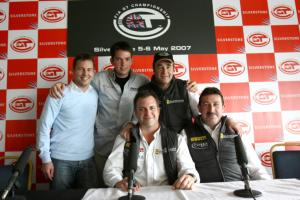 Picture: Top, from left to right, Jamie Davies, Sean Edwards, Nigel Mansell and bottom, from left to right, Chris Niarchos and Steward Roden