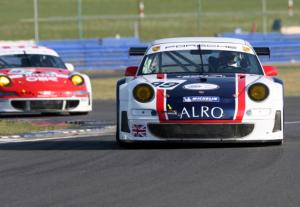 The second round of the 2007 FIA GT Championship visited the UK, which is the home of Sean Edwards. He was looking to impress on a circuit that he knows like the back of his hand and he certainly proved that!
Practice was a time to set up the car and try to get the best balance for qualifying and the race. But the team were struggling to set up the car for qualifying, so they changed it radically and it had seemed to work for Sean! He was P1 for most of the session and then dropped to P3 with a late charge from two Ferrari's, but he was still top Porsche ahead of the factory backed BMS Porsche!
Sean had time for a quick comment after qualifying "I am really pleased for the team as they worked really hard to give me the car to deliver the goods. They did just that and we got 3rd place, which is great! Considering the fact that we ran the medium compound Michelin's as well, which is quite a bit slower than the soft one, it is a great result."
The race was quite a different matter though, 2 hours is a long time and consistency between both the drivers is paramount. Sean was going to start the race; with Leo doing a 35 min stint in between, before Sean finished the race.
As the red lights went out, Sean got an amazing start and jumped both the Ferrari's and a GT1 Corvette to gain the GT2 lead! "Me and Phil (Hindley) have a great thing going for the start, I went from seventh to second in Zuhai and now from third to first at Silverstone!"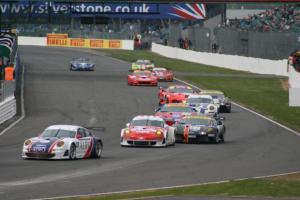 Sean was holding his own, at the front of the GT2 field, holding back the likes of Andrew Kirkaldy in his number 62 Scuderia Ecosse Ferrari. "I could keep him behind without having to defend too much, but the GT1 Corvette ahead was proving to be difficult and holding me up a lot, which meant that every time I pulled a lead, the Corvette would get in the way when he made a mistake and Andrew would be right back on my tail!"
On lap 10, the Michelin Ferrari's were closing fast on Sean and the team decided to not hold them up and just keep to their own strategy. "They were coming up fast" said Sean. "I got told not to defend and the three of them went through. I tried to keep on the back of them, but they really were too fast for the Porsche at the moment."
Sean held station in 4th place, ahead of Andrew Kirkaldy for the rest of his stint before the top three Ferrari's pitted, and he then regained his lead. "I hit the pit lane speed button twice round Club by accident, when the car got sideways, with the bottom of my hand I guess! Andrew (Kirkaldy) got past me because of it and I then had to re take him loosing us some valuable time…"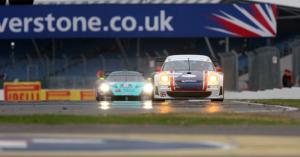 Sean pitted from first place, bang on the hour to hand over to co driver Leo Machitski. The pit stop went perfectly to plan and Leo rejoined in third place, behind two Ferrari's. He found it hard to get to grips with the Porsche on old rubber and subsequently spun twice in his stint dropping down to 6th place. But still put in a good effort to bring the car back in a competitive place.
He pitted after his mandatory 35 minute stint and handed back over to Sean for the last 25 minutes. "I told Sean he had to push 100% every lap and we might get a podium, and he did exactly that" commented Hindley.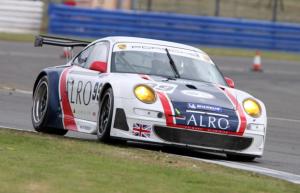 He came out in 6th position and quickly overtook the Scuderia Ecosse and Edil Cris Ferrari's to take 4th. "Phil (Hindley) came over the radio and told me there was a 20 second gap to Matteo (Malucelli) in the BMS Porsche and that I was closing him down at 4 seconds a lap!" said Sean. "He also said I was catching the second place Edil Cris Ferrari, and might have the chance to gain second in the remaining minutes."
He drove flat out and caught up to the BMS Porsche quite quickly and within a lap made a great move into Brooklands on Matteo and took third place! But, it then all went pear shaped, as Matteo seemed not to like having another Porsche beat him fare and square and spun Sean right off the track into Luffield. "I was fuming, I overtook him and gave him room and he just blatantly rammed me off the track. He is obviously not a very intelligent driver and what goes around comes around is all I can say." said a very frustrated Sean after the race.
He rejoined in sixth place and tried to get back past Kirkaldy in the last 5 minutes of the race, but his flat spotted tyres did not help and he finished just over 1 tenth of a second behind the Scotsman.
Sixth place and another three points was Tech9's reward for a hard weekends work, but it should have been a whole lot more than that… Sean Edwards and Leo Machitski are equal fourth place in the drivers championship, with Tech9 also being fourth in the teams championship respectively.
Bucharest is in a little under two weeks away and Sean is looking for a good result there, on the hard street track, a result they really do deserve after there first two amazing race performances.