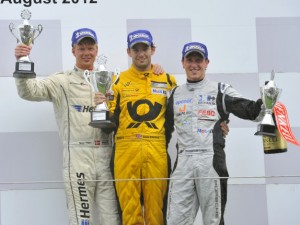 Both of the Porsche Carrera Cup Germany races in Zandvoot proved to be a challenge for the drivers. The 25 cars started a dry race on Saturday. In the middle of the race, torrential rain led to the race being stopped. René Rast, who started the race in first position and managed to hold on to his lead during the race, was given a 30-second time penalty, which put him back to 16th place. He drove too fast under yellow flag conditions. His teammate Sean Edwards, who started in 2nd place and initially lost a couple of positions, finished in 1st position. Klaus Bachler started the 12th race from 13th place and worked his way up to 8th place. The race directors only distributed half the points for Saturday's race because it couldn't be finished. Despite finishing so far back, René Rast remains in front of Sean Edwards in the drivers championship.
On Sunday, the weather conditions were again not ideal. The track was wet although some stretches were dry, which put the drivers' skills to the test. Sean Edwards and René Rast lost places at the start. The British driver fell back to 7th place and the German driver to 3rd place. Two safety car phases interrupted the race. Klaus Bachler started in 14th position and fought his way up to 11th place. Nicki Thiim and Norbert Siedler dominated the 13th race right to the end, but were handed time penalties and therefore lost their first places. The 'Team Deutsche Post by tolimit' drivers profited from this and took two podium places.
René Rast, winner of Sunday's race and current leader of the drivers championship, was pleased with a successful race: "What do people say? That we learn from our mistakes. What Nicki and Norbert did today happened to us at the Red-Bull-Ring. We were too fast under the yellow flag and were handed a penalty. Today I consciously took my foot off the accelerator. At the end of the day, I was lucky and took the victory which I gave away yesterday. I'm really happy. All in all, it was a good day."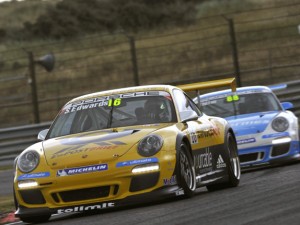 Sean Edwards, who finished third on Sunday, has narrowed his teammate's lead in the drivers championship and is still in second place: "I had a good start on the left hand side and was able to overtake René. Norbert also had a good start and I had to make space for him in the first bend. He then collided with me and my front wheel was damaged. Nevertheless, third place is really good. I'm pleased with my podium finish and can hardly wait for Oschersleben."
"I'm satisfied with both races, I didn't make any mistakes. Despite the bad qualifying sessions I got plenty of points. I couldn't manage much more. It's really difficult when you start so far back. I don't understand why it didn't work out during training. I really gave it everything. The fact is that I was simply too slow on this track. I will be carrying out a careful analysis" concluded Klaus Bachler, the Porsche Junior driver.
The 'Team Deutsche Post by tolimit' is building on its lead in the battle for the team championship. Three podium positions and two good finishes from Klaus Bachler have given the team from Lohne more important points. Paul Schlotmann: "After Saturday's bad luck and René's penalty, today we were lucky that our opponents drove the fastest laps under the yellow flag and were handed penalties. Unfortunately, we weren't really able to show our potential on the track. Klaus did a great job and drove some fast times. Although he was held up he had a great race."
Further information, results and photos can be found at www.facebook.com/tolimit and at www.tolimit-motorsport.de.
On Mondays after race weekends, the news channel N24 broadcasts a 30 minute Carrera Cup programme at 6.30pm, with reports about the race series, the drivers, the highlights and stories about the people involved in the Carrera Cup.
The Racing Calendar:
16th September 2012 DTM Oschersleben
21st October 2012 DTM Hockenheimring Baden-Württemberg
This entry was posted on Tuesday, August 28th, 2012 at 9:52 PM and is filed under
All
,
Porsche Cup
. You can follow any responses to this entry through the
RSS 2.0
feed. You can skip to the end and leave a response. Pinging is currently not allowed.