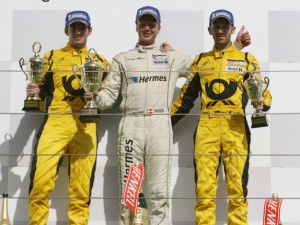 With temperatures over 30 degrees and brilliant sunshine, the Eifel showed off its summery side.
A great deal was asked of the drivers in the Porsche Carrera Cup Germany this weekend. With temperatures reaching around 60 degrees inside the cars, the 'Team Deutsche Post by tolimt' drivers were feeling the heat. However, the sweat-inducing work was worth it. On Saturday, René Rast started in pole position, and held on to his lead throughout the race. Things didn't go so smoothly for his team mate Sean Edwards. The British driver fought until the last lap for second place, unfortunately without success. After an impact he fell back to fourth place, in which position he crossed the line. Sean Edwards picked up a penalty as a result of this incident. He received a five-place grid penalty for Sunday's race. Klaus Bachler started in seventh position and found himself back in twelfth position after a collision. He made up two places during the race and crossed the line in tenth place.
Sunday's race went even better for the team from Lower Saxony. Although Sean Edwards started in seventh position, he crossed the line in second place. Patrick Petter, Sean Edwards' chief mechanic, celebrated his birthday on Sunday at the race track, and received the best gift of all from his driver: a podium finish. "The car was really fast and unbelievable today. I started in seventh position and finished in second place. That's great." said the British driver.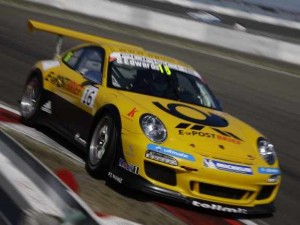 A spectacular battle between René Rast and Sean Edwards caused the hearts of the 'Team Deutsche Post by tolimit' to beat faster during the final laps. René Rast, who handed the position to his teammate during the last lap, was pleased with his third place, which completed the yellow double podium finish: "If it hadn't been a yellow Porsche behind me, I certainly wouldn't have let him past." the drivers championship leader said.
Technical problems forced Klaus Bachler to start Sunday's race from the pit lane. The Austrian displayed his skills in a sensational catch-up race. From his start in 20th position, the Porsche-Junior driver managed to finish in seventh place. Klaus Bachler: "Unfortunately, I had to start from the pit lane. I worked myself forward one place at a time. I eventually finished seventh, and therefore got some points. And now we're looking forward to Zandvoort."
Paul Schlotmann concluded both races with a smile on his face: "What a weekend. After a big disappointment on Saturday with Sean getting a five-place grid penalty, we pulled out all the stops on Sunday. The strength of our team was yet again clearly demonstrated. After both races we've been able to build on our lead. Fantastic!"
Further information, results and photos can be found at www.facebook.com/tolimit and at www.tolimit-motorsport.de.
On Mondays after race weekends, the news channel N24 broadcasts a 30 minute Carrera Cup programme at 6.30pm, with reports about the race series, the drivers, the highlights and stories about the people involved in the Carrera Cup.
The Racing Calendar:
26th August 2012 DTM Circuit Park Zandvoort, Netherlands
16th September 2012 DTM Oschersleben
21st October 2012 DTM Hockenheimring Baden-Württemberg
This entry was posted on Tuesday, August 21st, 2012 at 7:36 PM and is filed under
All
,
Porsche Cup
. You can follow any responses to this entry through the
RSS 2.0
feed. You can skip to the end and leave a response. Pinging is currently not allowed.