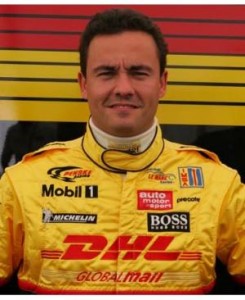 Porsche have loaned out factory driver Sascha Maassen to be the third driver for the Tech 9 squad at the Spa 24 hours later this month. Porsche superstar Sascha Maassen, who drives the Penske Porsche RS Spyder in ALMS, will be driving along side regulars Sean Edwards and Leo Machitski, for the blue ribbon FIA GT event.
"I am looking forward to it. I hear Sean is very good. We could do well, especially if it's wet" Sascha told Autosport. "I really can't wait for this event now, it will be my first 24 hour race and to have Sascha driving along side me is just amazing. I am really looking forward to learning as much as I can off him and hope we can get a really good result" commented Sean.
Tech 9 will be hoping for a good result at Spa, as so far this season, the luck has not seemed to be with them.