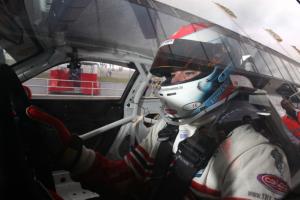 Oschersleben saw the return of the FIA GT championship for its fifth round, with Ferrari dominating the opening four races. Was this going to be the turning point for Porsche? Well the statistics said otherwise, with the nearest Porsche being over two seconds off in quali last year, although it being the 996 model, it was still a big gap.
First practice saw Ferrari dominate the first four places, over a second clear of the nearest Porsche and the Tech9 machine even further adrift! "We are really struggling with the car at the moment, but it might be because we are on the tyres from Monza, which are a much harder compound then the tyres Michelin have brought here" Said Sean after practice.
Second practice again saw Ferrari dominate, just under a second away from the leading Porsche and Tech9 still struggling to set any sort of decent time. "We really are struggling with the car right now and we need to have a look through all the data to see what is going wrong before quali" said a disgruntled Sean.
Heading into quali, Sean had this to say "We have had a look through all the data now and it appears the high cross winds have been affecting us quite badly and we have too much rear grip, which is causing all this understeer. We have figured out a setup for quali and in theory it should work! Obviously we will see how it goes, but hopefully we can salvage a decent lap time."
Salvage a lap time he did and stuck in an amazing lap that put him fourth in GT2 and first of the Porsche's! "The setup still wasn't perfect, but it was a lot better then this morning and I managed to put a decent lap together and put the car in a good position for tomorrow's race. I was really pushing on my third timed lap and was -0.187 up on my best after the first two corners, but then I pushed a bit too hard and lost it at 120mph at the fast kink and went through the gravel, which was a shame because it might have been pole…"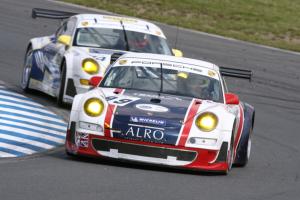 It was race time now and the Tech9 crew had worked hard over night to clear all the gravel out and get the car setup for the race. "Hopefully I can get one of my flying starts again (Zuhai 7th to 2nd, Silverstone 3rd to 1st and Monza 5th to 1st) and try and take the lead into turn one and see where we go from there. If I do get out front, I will try and keep the Ferrari's behind, as we know they are quicker here! " Sean said.
The red lights went out and the race was go, Sean got another flying start and managed to get the lead round the outside even before the braking for T1. He also managed to just about avoid all the GT1 carnage and still keep the GT2 lead. In the next 20 laps there was a fraught battle for GT2, with the Porsche of Zani, Ferrari of Muller and the Ferrari of Bruni all trying to have a go at the Tech9 machine. But Sean was having none of it and held his ground throughout his first stint. "It was an amazing battle and I have to say Muller and Bruni were very fair drivers, they had a few opportunities to give me a tap, but they didn't, unlike someone I remember from Silverstone. I had great fun in trying to keep them behind, but we had also lost radio communication and it was hard to know what was going on or when I needed to pit. I just went as hard as I could until the fuel ran out really" said Sean.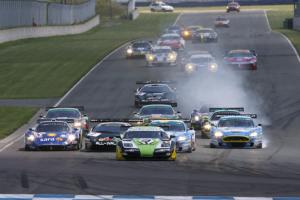 After 18 laps, the Ferrari of Bruni managed to get by Sean into the last corner, only a few laps before his pit stop. He then handed over to co driver Leo Machitski for the middle stint of the race and Leo rejoined in a net second place and was holding his own! That was until a certain Mr. Vilander decided to barge his way through at the last corner, causing considerable damage to the Porsche (only cosmetic) and that brought down the red mist with Leo, as he then tried to out brake the Af Corse Ferrari and Edil Chris Ferrari (3 abreast) into T1, which, unfortunately for him, didn't happen and he ended up backwards in the gravel trap, beached! The Marshalls would not push him out, so he got out of the car, only to then find that the Marshalls were willing to push him out, so he got back in and strapped himself in and drove back to the pits. With no radio communication or tv coverage of the crash, the team had no idea what had happened, until they saw him come down pit lane. At this point Sean was ready to change over, but Leo had not completed his mandatory 35 minute stint and had to go back out for another 4 laps, loosing valuable time.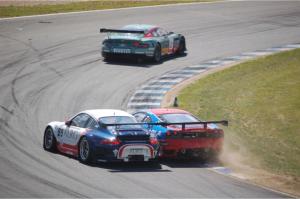 By the time he handed back to Sean, they were down to eighth place, 3 laps down on the leaders and all hopes of a podium lost. "I just drove consistently and had some fun with the car, trying different lines and getting the brake balance right, basically I just used it as a test session as we were not going to gain any places, unless someone dropped out." said Edwards. Which in fact one of the Edil Chris Ferrari's did and promoted them to seventh at the end of the race.
"Sean did a mega job in his opening stint, he really showed his talent once again out front, while being able to keep everyone behind him as well." said team boss Phil Hindley.
So, another few points for Tech9, but after it looking so good in the opening stint once again, you have got to wonder, they must be starting to get frustrated with their bad luck so far this season. Maybe Spa will be the turning point for them and they might finally get the result they deserve.

Onboard video highlights from the race.