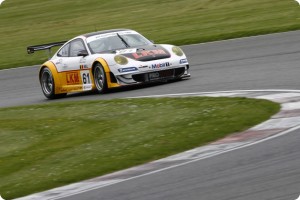 ProSpeed Competition defending a double leadership position in FIA GT
GRÂCE-HOLLOGNE, 17/06/2009. Following Prospeed Competition's victory in the second race of the FIA GT in Adria, the Oschersleben circuit is now the following venue on the FIA GT and FIA GT3 calendar. In Germany ProSpeed Competition will be defending Manu Collard and Richard Westbrook leaders' position with the drivers and on top of that also that of the team in the battle for the team title. On the GT3 front the team are looking to clinch a first podium place. ProSpeed Competition will be welcoming two new faces in Oschersleben, namely the Brit Sean Edwards in the Porsche 911 GT3 RSR teamed up with Marco Holzer (GT2) and the Greek Dimitris Deverikos in the Porsche 911 Cup S, which he shares with Niki Lanik (GT3).
Following his debut at Le Mans last weekend Darryl O'Young will not be amongst them.
"That's right", Rudi Penders started off the conversation looking ahead to the German round of the FIA GT-championship. "Darryl is active in the Porsche Carrera Cup Asia and as from Spa will be back amongst us. In fact he's being replaced by Sean Edwards here.
Sean is a young 22 year old Brit who won the first FIA GT3 title back in 2006 with Porsche and who competed in the 2007 FIA GT2 championship with a Porsche, with a third place in GT2 during the 24 Hours of Spa as his best result. In fact he will be competing for us in the 24 Hours of Spa and Oschersleben is therefore the perfect way in which to integrate him into the team and get to know some of our run of the mill procedures. In Oscherleben Marco and Sean are going flat out for a podium. It soon became apparent in Adria that our 'second' car had normous potential, and can definitely improve on that fourth place clinched in Adria On top of that every point scored in the battle for the team title is welcomed with open arms."
"Who knows, we might have to give our team mates a boost", Manu Collard laughed, having just won in Le Mans with Porsche in LMP2. "For Oschersleben we have no less than 90 kilo ballast (40 kilo as success ballast and 50 kilo 'fixed ballast' for the entire season as a result of the driver pairing). Tough going, especially as in the first instance these ninety kilo are an enormous handicap in qualifying, resulting in achieving a far less
favourable spot on the starting grid. The outcome is that we'll be enjoying a catch-up race, which is not ideal in Oschersleben. This German circuit is not designed for overtaking. But last but not least trying to go into the attack with a heavy car is not obvious. A good start, a perfect strategy and a bit of luck will be of vital importance for us."