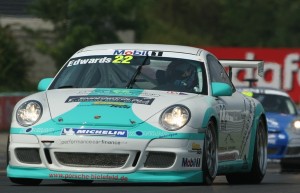 The week-end in Budapest started off with a good practice. Sean and his team mate Jan Seyffarth ended up 7th and 9th, only a few tenths off the pace. Qualifying, however was a disaster. The team just didn't get the setup of the cars or the timing of using the new tyres right, so Sean and Jan ended up down in 16th and 17th, which meant the race was always going to be tough.
The team, not letting this bad start dampen their spirits worked hard all night to prepare the cars which paid off by both Sean and Jan both getting off to good starts in the race making up around 4 places off the line! Unfortunately Jan got taken out on the first lap and nearly collected Sean on the way causing Sean to lose a few positions avoiding him. Sean then made his way past a few cars and that's when he started attacking Armindo, unfortunately for Sean Armindo kept blocking him and closing the door. Armindo braked a bit early at turn 12 and Sean tried to take advantage of this by diving to the inside. Armindo either didn't see Sean or tried to shut the door again but whichever it was he just turned into the corner as if Sean wasn't there. Sean explained later "I tried to avoid contact by going over the curb, but that just launched me into the side of him and put me out of the race with broken suspension." This was an unfortunate and dramatic finish to Sean and Konrad Motorsports race. The race as always did go on without them seeing Damien Faulkner in 1st, followed by Jeroen Bleekemolen in 2nd and Patrick Huisman in 3rd.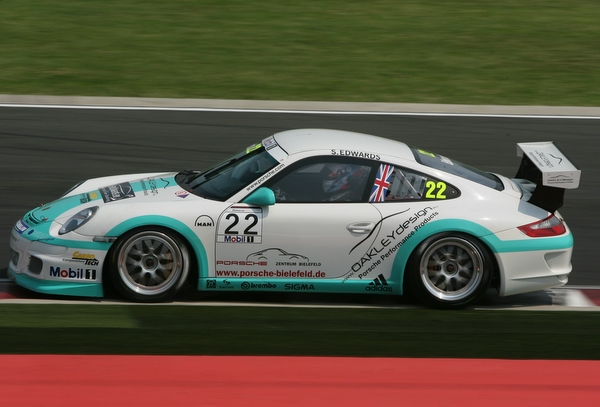 A weekend to forget for the Konrad team as they scored no points for the teams' championship. They must look forward to Valencia now and try and get the best possible result to bring them back into the championship hunt.
This entry was posted on Sunday, August 3rd, 2008 at 8:19 PM and is filed under
All
,
Porsche Cup
. You can follow any responses to this entry through the
RSS 2.0
feed. You can skip to the end and leave a response. Pinging is currently not allowed.