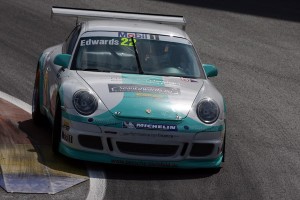 Sean Edwards arrived in Valencia with high hopes of a good result. The Konrad team had been somewhat been re shuffled, with Jan Seyffarth going to Tolimit and being replaced by Jiri Janak in the number 23 Konrad machine.
The test session didn't go well for Sean, as while he was running his brake pads in, there was a problem with the front suspension. He came in, but the team could not fix it in time and they missed the whole session. "It's very unfortunate, as the track is very different to drive on the Michelin tyres and ceramic brakes and they have changed the track a bit since last time, so we are on the back foot already." Sean said after testing.
Qualifying being forty five minutes, the team decided to use the first thirty minutes as a test session, to get the car and driver on the pace. This worked well and the car was perfectly setup for the second set of new tyres. Bleekemolen was on provisional Pole Position and already out of his car waiting to see if anyone would beat his time. Konrad sent Sean out with eight minutes to go, with the notion of full attack. He then set about a blistering lap, to secure Pole Position by only 0.004 from Jeroen Bleekemolen, with three minutes of the session to go, much to Bleekemolen's suprise! Third was Stephan Rosina just 0.046 behind pole and Damian Faulkner was fourth, just 0.052 behind pole! It has to have been the closest qualifying in the Supercup's history.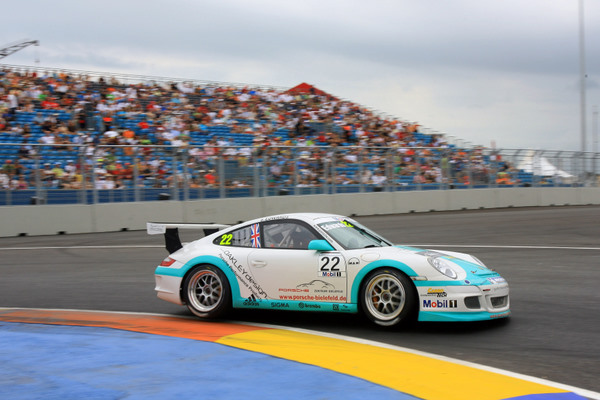 On the in lap to the pits, disaster struck when Sean's car ran out of fuel. Under Supercup rules, there has to be a minimum of 2 Litres left in the car at the end of each session, so that they can analyze it. The team set about removing the fuel tank and every last drop they could find in the car, but it was to no avail, there was only 1 Litre in the car. The same problem for Sean's new team mate, Jiri Janak, he qualified in 20th and ran out of fuel too. It was a disaster for the team, with the stewards ruling both cars to be stricken of all their lap times and start at the back of the grid! Somewhere along the line, there was a slight miscalculation on the fuel consumption and with the different temperatures between the days, qualifying used a lot more fuel than was anticipated by the team.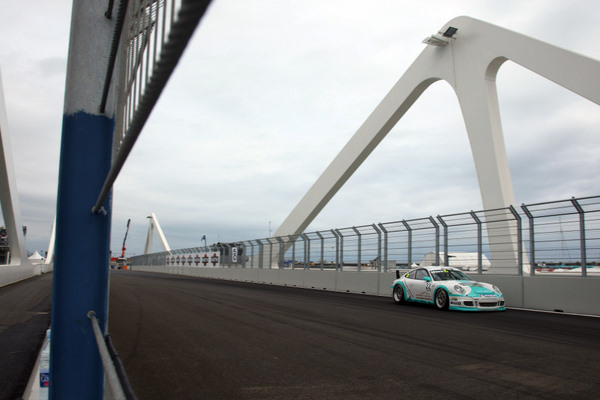 Sean and Jiri started the race in 26th and 27th positions, with nothing to loose they were going to work together through the pack, along with Sean's former team mate Jan Seyffarth, who crashed in qualifying. All three got off to a good start, gaining three of four places off the line, but at turn 2, Van Splunteren got hit and caused havoc, Jiri went inside and got away with it, where as Sean and Jan were stuck outside and both got his, causing rear end damage to the suspension. Sean then set about making his way through the pack and with 7 laps to go, he was upto 15th and stuck behind Sebastian Bleekemolen, who was making life very difficult, blocking at every passing place. Eventually he did get past and made it to an incredible 12th place by the finish of the race! Jiri followed him home in 13th. "It was a good race from both of us, there was nothing more we could do starting so far back. We got some points and prize money with no damage at least, from a weekend to forget really. I am going to Spa with a lot of confidence for a good result now, which we deserve."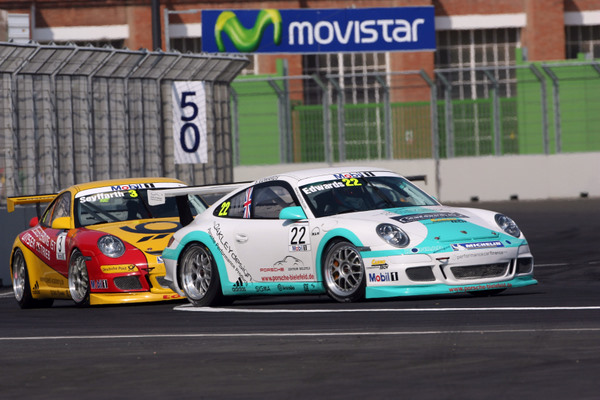 This entry was posted on Sunday, August 24th, 2008 at 8:00 PM and is filed under
All
,
Porsche Cup
. You can follow any responses to this entry through the
RSS 2.0
feed. You can skip to the end and leave a response. Pinging is currently not allowed.