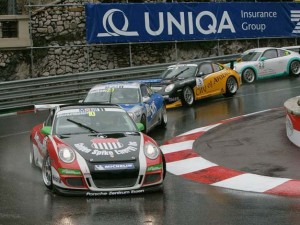 A very wet morning greeted the Supercup drivers in Monaco. Teams left it till the last minute to decide what setup went on the car, but as the race neared, it was clear that it would be very wet. In fact, so wet that there were two safety car laps and a rolling start, rather than the normal standing start used in Supercup.
As Bernd Maylander pulled the AMG safety car off the track, the race was on, with Jeroen Bleekemolen pushing hard a few corners before the finish line, the field was strung out a bit. But Sean Edwards was glued to the back of Uwe Altzen, following his every move, with almost 0 visibility. The race was fraught at the front, with the top 4 cars covered by no more than two seconds for most of the race. Edwards kept the pressure on Altzen and finally he made a mistake into Saint Devote, hitting Damian Faulkner in the process. Edwards was then able to get a good run out of the corner and pass Altzen on the run up to Casino Square.
Bleekemolen seemed to be holding Edwards and Faulkner up, but there was no way past in Monaco, without big risks anyway. No matter what the both tried, Bleekemolen had it covered. Altzen was putting increasing pressure on Edwards for 3rd and giving him the odd tap in the process! Edwards held off the super experienced Altzen too finish an incredible 3rd place on his first racing visit to the streets of Monaco and only 1.2 second off the winner.
"That was an incredible race. It was almost impossible to see anything. I had a reasonable start, taking it easy for the first few laps and then I started to put pressure on Uwe and he eventually made a mistake. I tried everything to get past Damien, but it's almost impossible here without significant contact, which I did not want to risk! Uwe was really pushing me hard in the last few laps, and hit me quite hard a few times, but luckily I kept it out of the wall and got a great result for myself and the team, who did a amazing job as usual with the setup of the car. I really hope we can take this momentum forward for the rest of the season."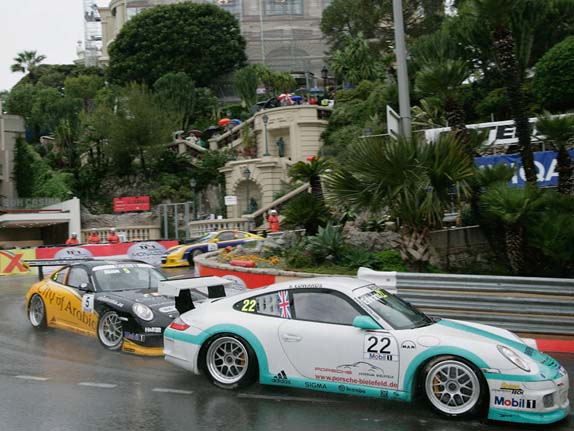 The next round will be in Magny Cours in mid June, but most of the Supercup field is off to a test day at Magny Cours on Tuesday, which is organized by Lechner Racing.
This entry was posted on Friday, May 23rd, 2008 at 8:40 PM and is filed under
All
,
Porsche Cup
. You can follow any responses to this entry through the
RSS 2.0
feed. You can skip to the end and leave a response. Pinging is currently not allowed.