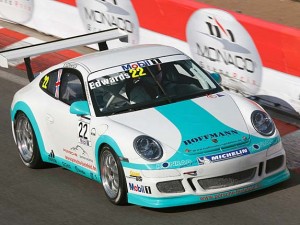 Sean Edwards finally got qualifying right, with 4th place on the grid, round the super hard Monaco streets! He was running second for most of the session, but a late charge by Faulkner and Altzen, saw him drop too 4th. Nevertheless, he is in a great starting position for round 5 of the Supercup and with a 90hance of rain for the race, it should be very interesting. Sean was also the highest Supercup and Monaco rookie, and hops to keep it that way in the race.
Sean commented after qualifying. "It's really great to finally get qualifying right and be right up the front. The team did a great job on the setup and the car was handling great. I actually had food poisoning last night and felt really bad in qualifying, but somehow managed to pull a couple of laps out. The doctor has said I should be ok for the race on Sunday. I had a crash in the casino on my second set of tyres, trying to push for a top 3, but the car will be ok for the race, thanks to the efforts of the team. I really hope I can finish in the top 5 and stay out of trouble."
His team mate who is leading the championship had a difficult qualifying session due to traffic, finishing in P7, but hopes for a better race! The two team mates will try and work together and get the best result possible for the team.
This entry was posted on Friday, May 23rd, 2008 at 7:47 PM and is filed under
All
,
Porsche Cup
. You can follow any responses to this entry through the
RSS 2.0
feed. You can skip to the end and leave a response. Pinging is currently not allowed.