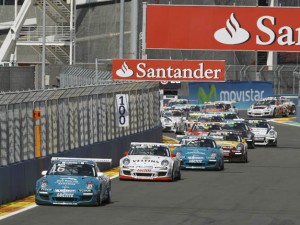 The pilots of 'Team Abu Dhabi by tolimit' Sean Edwards, Sascha Maassen and Khaled Al Qubaisi finished the Porsche Mobil 1 Supercup race weekend in Valencia on positions 5, 9 and 19. Team manager Michael Seifert is "generally satisfied".
It was a comfortably quiet race weekend which 'Team Abu Dhabi by tolimit' faced at the 4th round of Porsche Mobil 1 Supercup in Valencia. Although especially Sean Edwards and Sascha Maassen weren't fully happy with their qualifying performance, the race result was completely favorable with view to the team success. "This weekend, a good team result was the most important thing for us", says team manager Michael Seifert.
With little restrictions, Porsche old-hand and former works driver Sascha Maassen was satisfied with his race: "It could have gone better in qualifying. There is a high performance density in Porsche Mobil 1 Supercup which means that it is very difficult to catch up positions during the race. The starting place is vital. Unfortunately, I made one or two smaller mistakes and had to start form position 9". After some duels at the start and the end of the race, the experienced pilot also finished on position 9. "Other than that it was a very satisfying weekend. Especially with view to the team standings.
The Briton Sean Edwards agrees with his team mate: "A weekend without penalties and other issues. I wasn't able to perform 100 per cent, as the braking balance of the car didn't fully work out. But the race result today is a success." The 23-year-old also unfortunately had some smaller mistakes in qualifying. Starting from position 4, he lost another position to Jaap van Laagen due to dismantling tyres, however, was able to stand the pressure from other competitors successfully.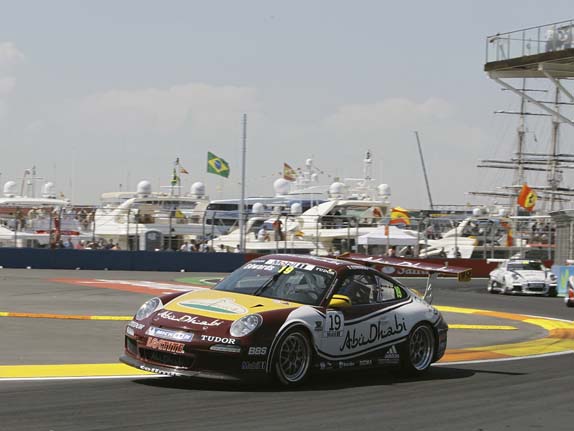 Khaled Al Qubaisi however, wasn't able to stop grinning after the race: "I am absolutely happy. The Valencia race track has become one of my favourites this weekend. I am very happy that I was able to gain more experiences on a street course and as well in dueling with competitors. Again I had a great start and was able to catch up five positions. Later I fought among others with former Supercup champion Alessandro Zampedri. It was very exciting."
Team manager Michael Seifert thus doesn't have a reason to complain: "The clear strategy for this weekend was to gain points for the team standings. All pilots abided to that strategy and held back in critical situations. With view to the race season so far, this was extremely important for us. Now we look forward to the Porsche Carrera Cup race weekend at the Norisring. The track offers the same conditions than Valencia. We want to at least repeat this weekend's result."
tolimit managing director Hans-Bernd Kamps sums up: "We promised our partners from Abu Dhabi Tourism Authority, Windreich AG, aabar and Deutsche Post AG to gain some good results. And we managed to keep the promise. Now we can work on that and continue to improve."
The next race of Porsche Mobil 1 Supercup will take place in Silverstone, England, on July 11, 2010.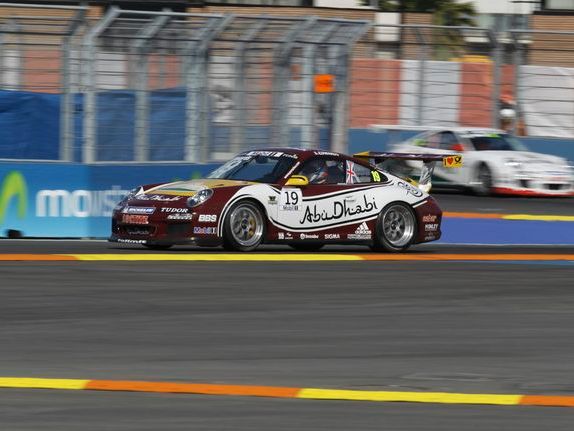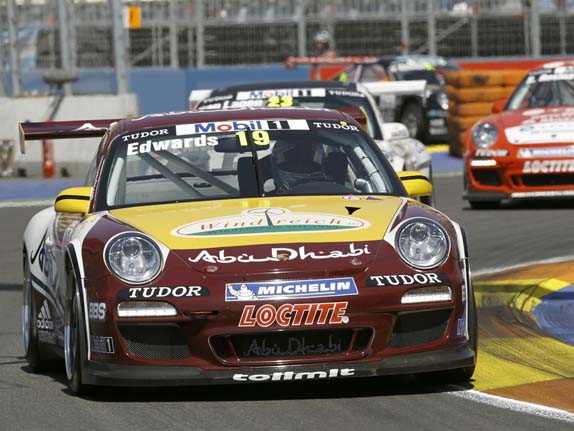 This entry was posted on Thursday, July 22nd, 2010 at 3:57 PM and is filed under
All
,
Porsche Cup
. You can follow any responses to this entry through the
RSS 2.0
feed. You can skip to the end and leave a response. Pinging is currently not allowed.