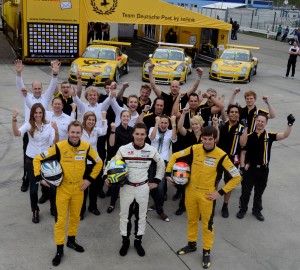 In Saturday's race, the 14th in the Porsche Carrera Cup 2012, which took place on 15th September in Oschersleben, the 'Team Deutsche Post by tolimit' was able to clinch victory in the team championship. The team from Lohne, together with René Rast, Sean Edwards and Klaus Bachler, have defended their 2011 title 3 races before the official end of season.
Paul Schlotmann is delighted: "Wow! We're team champions. Yet again. And already! The performance of the boys and girls in the technical department has been amazing. They've delivered a top performance all through the season. You're the best. I'm really proud of you all! And of course of the drivers. René and Sean have delivered sensational races to date. Klaus, in his first season in a Porsche, has done an incredible job. Have I already said that we're the best!?"
Hans-Bernd Kamps said: "The 'Team Deutsche Post by tolimit' says everything there is to say about what makes a team, and what friendship and working in partnership can deliver. We've all worked incredibly hard and have earned victory. And: It wasn't as easy as it may have appeared. Hermes Attempto Racing, Konrad Motorsport, Lechner Racing and co are great opponents, who have shown that we can be beaten. Together, we have delivered fair and brilliant motorsport. Thank you to everyone!"
This entry was posted on Monday, September 17th, 2012 at 8:47 PM and is filed under
All
,
Porsche Cup
. You can follow any responses to this entry through the
RSS 2.0
feed. You can skip to the end and leave a response. Pinging is currently not allowed.