Coming off the back of two successful race weekends in Spain and Germany, 'Team Abu Dhabi by tolimit'could not continue its good run of form at the Porsche Mobil 1 Supercup race in Silverstone after Sean Edwards, Sascha Maassen and Khaled Al Qubaisi finished 12th, 13th and 19th respectively.
Abu Dhabi's Emirati star, Al Qubaisi, was the first casualty of the weekend, after a spin out in Friday's practice meant the tolimit crew had to work through the night to get the car back into racing condition.
Saturday saw an improved performance from the team with England's Sean Edwards achieving a respectable third position in qualifying, just a few hundredths of a second shy of snatching pole. However, his time was canceled later on when stewards decided to disqualify his best lap time, dropping him to the back of the grid, for 'disrespecting the course' after all four wheels left the track.
"It's annoying. Above all, because the track was really fast and had a lot of grip. Maybe I underestimated my speed when I left track. However, it cannot be changed," said Edwards.
In the race, Edwards was keen to make amends and put in a solid opening assault, climbing up to 10th before rival, Tim Bridgman, caused him to run off the track again. In the remaining three laps, Edwards fought back to eventually secure 12th position
"In my first lap I overtook at least five cars in front of me. Especially at the end of the race, the car was super fast. I had a lot of fun. Unfortunately, we weren't rewarded with a good position due to the qualifying incident," said the 23-year-old.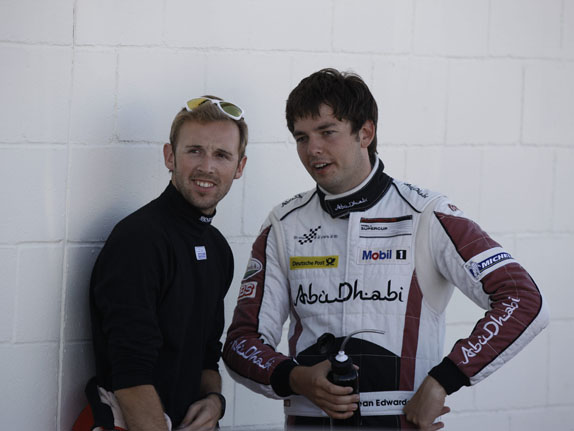 Maassen's race weekend could have gone better too. In qualifying, the German ace struggled to produce a solid lap time: "I made a mistake in my first fast lap, which was annoying as the track offered a great deal of grip from the Formula One tyres. In my second fastest lap, the track was unfortunately already more than a second slower."
Al Qubaisi, who was making his UK debut, also found the Silverstone track a daunting task, as he span-out into the boundaries in practice after under-steering his Abu Dhabi-emblazoned Porsche 911 GT3 Cup. Yet a strong race day performance saw the Emirati driver snatch his second competitive points haul of the season – adding to the six points collected by Edwards and Maassen.
"The tolimit mechanics are the true heroes of this race. They twice worked on my car all night long. I am very thankful for this. I simply didn't want to crash again and didn't risk a lot," added Al Qubaisi.
'Team Abu Dhabi by tolimit' team manager Michael Seifert sums up: "It was definitely a busy weekend. I have to thank the whole team for supporting each other and working long hours in order to get all cars on track. Unfortunately, the result again doesn't show the true potential of the team. The penalty against Sean needs to be accepted, however, we would be pleased if the stewards penalized more consistently. It was not only Sean who left the track with all four wheels."
tolimit managing director Hans-Bernd Kamps agrees: "This was a result that had to be earned with a lot of effort. However, same as the German soccer squad, our team didn't let the result get them down and kept on fighting. That's how racing goes."
A summary of the race in Silverstone will be shown on Eurosport 2 on Tuesday, July 13, 10.00 a. m. and on Eurosport 1 on Wednesday, July 14, at midnight. The next race of Porsche Mobil 1 Supercup takes place on July 25 at the Hockenheimring.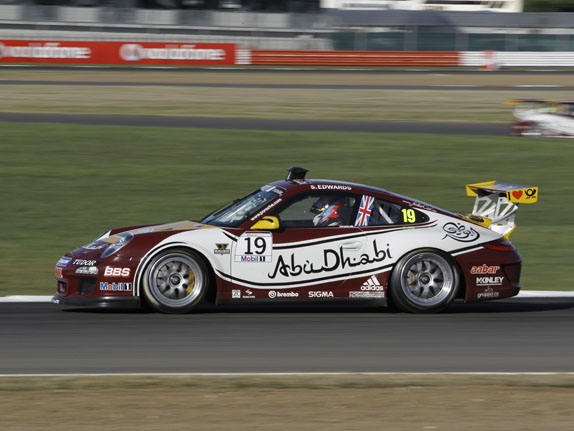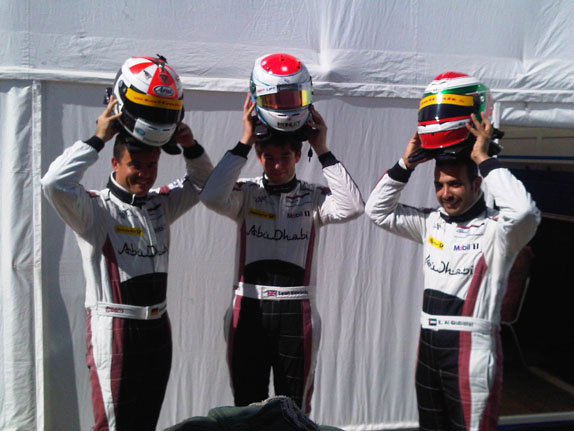 This entry was posted on Thursday, July 22nd, 2010 at 4:17 PM and is filed under
All
,
Porsche Cup
. You can follow any responses to this entry through the
RSS 2.0
feed. You can skip to the end and leave a response. Pinging is currently not allowed.