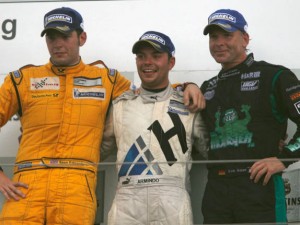 After typical weather conditions in the Eifel – temperatures of only 16 degrees Celsius, dense fog, and heavy rain – caused a postponement of the Porsche Carrera Cup race from the morning into the afternoon, Sean Edwards and Sascha Maassen both successfully sustained their starting positions 2 and 4 under dry, but still difficult conditions.
Once again, qualifying was the key to success. Both Sean Edwards as well as Sascha Maassen, cut right to the chase on Saturday. Sean Edwards: "This was my best qualifying result in Porsche Carrera Cup so far. It was not a perfect lap, but enough for the front row." After a proper start, the 23-year-old was at first able to compete with the leading pilot Armindo, however, due to his understeering car slightly fell back later on: "In the end of the race, I had a few duels with Uwe Alzen, however, managed to hold him behind. I am pretty satisfied with the result."
Sascha Maassen was able to tie in with his success 10 years ago when he started for the tolimit team for the first time and immediately achieved pole position: "Well, this time it was not pole position, however, I am really satisfied with position 4 on the grid. I have to get used to a rougher driving style in Porsche Carrera Cup due to the tight performance density."
In the race, the young father got hold of a great start: "That was amazing. I was immediately able to pass Alzen, however, stood back in the first curve due to Sean being in front of me. Then Tandy tried to overtake me on the inside, but was somehow out on his estimation and touched me on the side of the car. As a result, I lost one position again, however, am very happy that nothing happened in this incident. I am absolutely happy with position 4."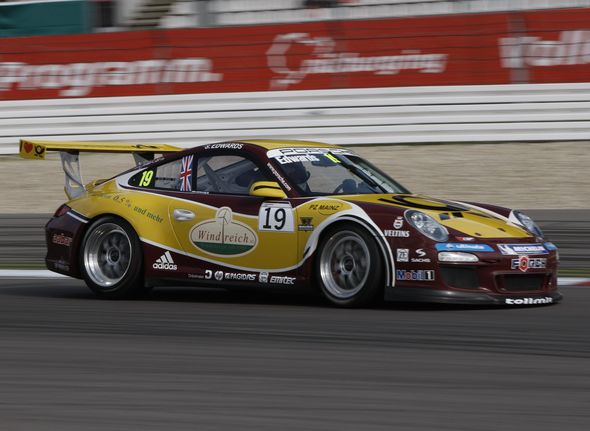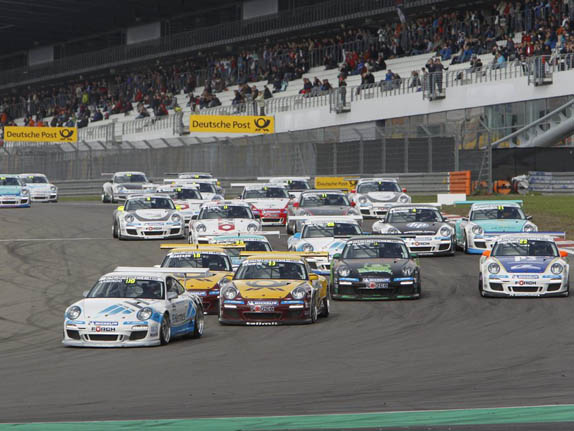 Team manager Jörg Michaelis is more than satisfied with the performance of the two pilots and the whole team: "With positions 2 and 4, we achieved our target for this weekend of good individual results. Despite of typical Eifel weather conditions, both Sean and Sascha showed a superior performance. This was exactly what we needed and deserved. Now we have even more tailwind for the next race in Zandvoort. I am proud on the whole team."
tolimit managing director Hans-Bernd Kamps adds: "A big compliment to Sean, Sascha and the whole team. We finally sorted out all issues that prevented us from being in the front rows. Although I am still allowed to smoke, as Sean hasn't managed to be on pole or win a race so far, I will enjoy my cigarettes to the full in the next weeks. Who knows how long I will be able to indulge in this personal pleasure."
For the guests of 'Team Deutsche Post by tolimit' the race weekend equally was a success, despite of the wet weather conditions. Both, the paper concerning internet letters and the view into the pits from the Deutsche Post suite, provided partners, customers and friends with an exciting and one-of-a-kind race experience.
TV channel Motorvision will show a re-live of the race tonight at 9.30 p. m. Sport 1 will broadcast the show "Cup Backstage" tonight at 9.00 p. m., furthermore the highlights on Thursday, August 12, 2010, at 10.30 p. m. n-tv will show a short summary on Tuesday, August 10, 2010. Furthermore, some highlights of the race are part of the show "DTM Magazine" shown by DMAX on Sunday, August 15, 2010. The next race of Porsche Carrera Cup will take place on August 22, 2010, in Zandvoort, The Netherlands.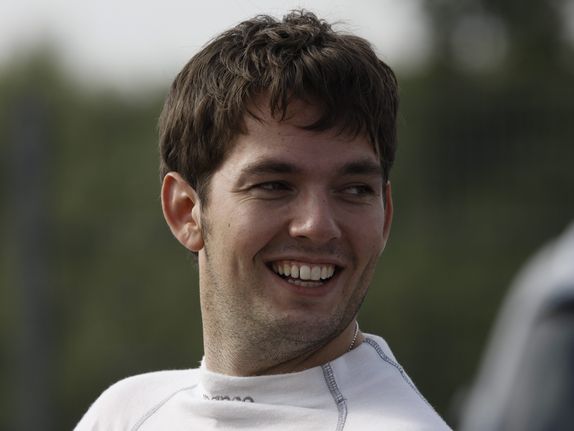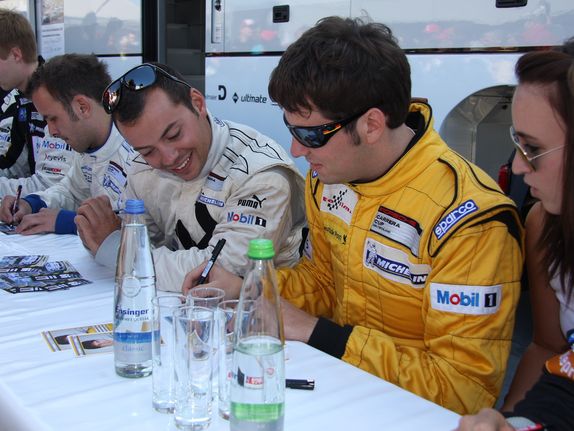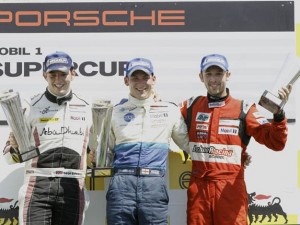 It was a successful weekend for the Lohne-based team as Sean Edwards finished second at the Porsche Mobil 1 Supercup race in Budapest. In addition, Sascha Maassen caught up two positions to finish ninth and Khaled Al Qubaisi finished 14th, notching up three championship points due to a guest starter in front of him.
The race at the 4.381kms Hungaroring was dominated by a severe race accident causing a long safety car phase, with six cars retiring from competition. With outside temperatures of 30 degrees and track temperatures of 40 degrees, all remaining drivers had to stand sauna-like conditions in the cars during the slow laps.
Despite the heat and after the re-start, Edwards was able to attack race leader Nick Tandy, however, despite his best efforts, he was unable to overtake his fellow countryman.
"It was a very good race weekend for us. In qualifying I managed to be back where we need to be… in the front row very close to the pole setter. At the race start, I overtook Nick on the outside of the track, however, ran too wide and had to let him pass again. Unfortunately, the Hungaroring does not offer many overtaking possibilities. At the re-start I was able to attack, but not pass. Nevertheless, I am very happy with the result."
German racing stalwart Maassen was able to procure a good starting position in qualifying: "The car was good and I was pretty confident with my time. In Supercup, the performance density is really tight and my time meant that I started from position 11 in the end. In the race, I was again able to catch up two positions. It should have been possible to proceed further, however, the long lasting yellow flags didn't leave much time for attacks."
'Team Abu Dhabi by tolimit's Emirati star, Al Qubaisi, is more than happy with his race, after clinching his largest ever points haul: "In qualifying, I expected to achieve one position ahead, but starting from place 20 was ok. In the race, I fought against Thomas Messer and Robert van den Berg, which was great, because such situations mean a lot of additional race experience for me. Due to the accident and many drivers finishing the race early, I collected three more championship points. A very good race."
'Team Abu Dhabi by tolimit' team manager Michael Seifert sums up: "Things are looking up. After our long wait for podium, this weekend all drivers came together to figure out what was needed and we resolved to do what was needed to achieve good starting positions. Overall, we collected 25 points for the team standings. Sean will catch up to position 9 in the driver standings. Khaled collected points for position 13, as a guest starter finished in front of him. I am more than happy."
tolimit managing director Hans-Bernd Kamps adds: "A very motivating result for the whole team shortly before the Supercup break. A big thanks to the whole team for the great work. It was a long dry spell for us and finally we are awarded for our efforts. Furthermore also a big thanks to our partners from Abu Dhabi Tourism Authority, Deutsche Post and Windreich for their ongoing support."
The next race of Porsche Mobil 1 Supercup will take place on August 29, 2010, in Spa-Francorchamps, Belgium.