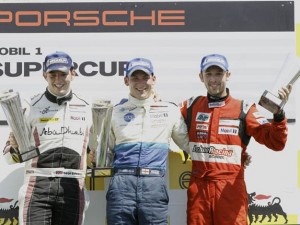 It was a successful weekend for the Lohne-based team as Sean Edwards finished second at the Porsche Mobil 1 Supercup race in Budapest. In addition, Sascha Maassen caught up two positions to finish ninth and Khaled Al Qubaisi finished 14th, notching up three championship points due to a guest starter in front of him.
The race at the 4.381kms Hungaroring was dominated by a severe race accident causing a long safety car phase, with six cars retiring from competition. With outside temperatures of 30 degrees and track temperatures of 40 degrees, all remaining drivers had to stand sauna-like conditions in the cars during the slow laps.
Despite the heat and after the re-start, Edwards was able to attack race leader Nick Tandy, however, despite his best efforts, he was unable to overtake his fellow countryman.
"It was a very good race weekend for us. In qualifying I managed to be back where we need to be… in the front row very close to the pole setter. At the race start, I overtook Nick on the outside of the track, however, ran too wide and had to let him pass again. Unfortunately, the Hungaroring does not offer many overtaking possibilities. At the re-start I was able to attack, but not pass. Nevertheless, I am very happy with the result."
German racing stalwart Maassen was able to procure a good starting position in qualifying: "The car was good and I was pretty confident with my time. In Supercup, the performance density is really tight and my time meant that I started from position 11 in the end. In the race, I was again able to catch up two positions. It should have been possible to proceed further, however, the long lasting yellow flags didn't leave much time for attacks."
'Team Abu Dhabi by tolimit's Emirati star, Al Qubaisi, is more than happy with his race, after clinching his largest ever points haul: "In qualifying, I expected to achieve one position ahead, but starting from place 20 was ok. In the race, I fought against Thomas Messer and Robert van den Berg, which was great, because such situations mean a lot of additional race experience for me. Due to the accident and many drivers finishing the race early, I collected three more championship points. A very good race."
'Team Abu Dhabi by tolimit' team manager Michael Seifert sums up: "Things are looking up. After our long wait for podium, this weekend all drivers came together to figure out what was needed and we resolved to do what was needed to achieve good starting positions. Overall, we collected 25 points for the team standings. Sean will catch up to position 9 in the driver standings. Khaled collected points for position 13, as a guest starter finished in front of him. I am more than happy."
tolimit managing director Hans-Bernd Kamps adds: "A very motivating result for the whole team shortly before the Supercup break. A big thanks to the whole team for the great work. It was a long dry spell for us and finally we are awarded for our efforts. Furthermore also a big thanks to our partners from Abu Dhabi Tourism Authority, Deutsche Post and Windreich for their ongoing support."
The next race of Porsche Mobil 1 Supercup will take place on August 29, 2010, in Spa-Francorchamps, Belgium.
This entry was posted on Sunday, August 1st, 2010 at 11:35 PM and is filed under
All
,
Porsche Cup
. You can follow any responses to this entry through the
RSS 2.0
feed. You can skip to the end and leave a response. Pinging is currently not allowed.